Instant Pot 20 Minute Easy Chicken Rezala- Bengali Style Chicken Rezala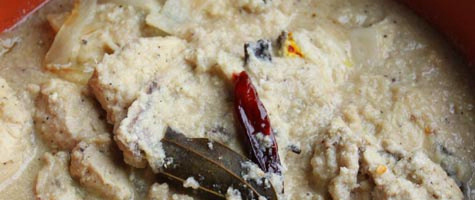 Onions- 2, medium sized
Garlic, cloves- 2
Ginger- 2 inch slice
Water- 2 to 3 tbsp
Poppy seeds- 1½ tbsp
Cashew nuts- 10
Water- 2 tbsp
Chicken, bone-in pieces or chicken legs- 10
White pepper powder- ½ tsp
Onion/garlic/ginger paste- half of the ground paste
Yogurt- ½ cup
Salt- 1½ tsp
Ghee or Butter- 2 tbsp
Whole cardamom- 2
Whole cloves- 2
Whole cinnamon- 2 inch slice
Dried bay leaves- 2
Onion-garlic-ginger paste
Yogurt- ½ cup
White pepper powder- ½ to 1 tsp
Salt- ½ to 1 tsp
Garam masala-1 tsp
Saffron- 2 pinches soaked in 1 tbsp water
Ghee- 2 tbsp
Dried red chilies- 2
Onion, sliced- 1, small sized
Firstly, grind onions/garlic & ginger along with 2 to 3 tbsp water to a smooth paste.
In a bowl, soak poppy seeds, cashew nuts and 2 tbsp water for 10 minutes. After that, grind to a smooth paste. Keep aside.
Into a bowl, combine chicken along with half of the ground onion/garlic/ginger paste, white pepper powder, yogurt and salt. Let marinate for 30 minutes or an hour.
Turn on the Instant Pot.
Select Saute setting, normal temperature. Let display turn Hot.
Add ghee or butter.
Add whole cardamom, cloves, cinnamon and dried bay leaves. Saute for a minute.
Add the remaning onion-garlic-ginger paste; saute for 2 minutes.
Add the ground poppy seed-cashew nut paste; saute for 2 minutes.
Add ½ cup yogurt, combine well.
Add the marinated chicken.
Combine well, cook for a minute.
Add ¼ cup water.
Add ½ tsp white pepper powder, combine well.
Close the pot with the lid.
Cancel saute setting and select pressure cook setting.
Set time to 8 minutes at high pressure.
After 8 minutes pressure cooking, do a quick pressure release.
Open the lid.
There will be enough liquid in the pot, to thicken the gravy select saute setting at normal temperature.
Add garam masala, combine well.
Add saffron that has been soaked in 1 tbsp water for 5 minutes.
Give a taste, add more salt and white pepper powder if required.
Cook for 2 to 3 minutes till the gravy thickens.
Turn off the Instant pot and keep the pot covered.
Place a frying pan over medium heat, add ghee.
Add dried red chilies and sliced onions; saute till onions turn golden brown.
Pour this over the cooked chicken rezala.
Keep covered for sometime.
This can be served along with bhatura, poori, naan, paratha, chapathi, etc.
If you don't have an Instant Pot, cook the chicken in a saucepan over stove top.
Recipe by
Cooking with Thas - Healthy Recipes, Instant pot, Videos by Thasneen
at https://www.thasneen.com/cooking/instant-pot-15-minute-easy-chicken-rezala-bengali-style-chicken-rezala/