Easy Chicken Puffs- Kerala Chicken Puffs-Easy Chicken Filling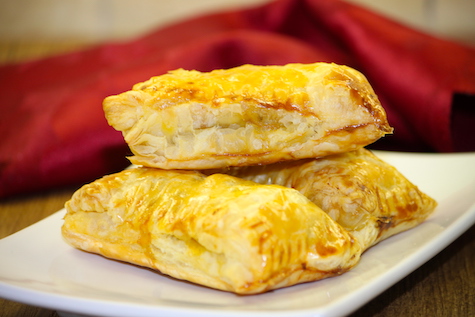 For marinating chicken
Chicken Breasts, diced- 3
Chili powder- 1 to 2 tsp (based on your heat level)
Turmeric powder- ¼ tsp
Coriander powder- 2 tsp
Garam Masala- 1 tsp
Salt- 1 tsp
For making Filling
Oil- 2 tbsp
Onion, chopped- 4
Ginger, grated- 2-inch slice or 1 tbsp
Garlic, grated- 2 large cloves or 1 tbsp
Green chilies, chopped- 2 or 3
Curry leaves- 1 sprig
Garam masala- ½ tsp
Salt- 1½ tsp
Cilantro, chopped- ¼ cup
Puff Pastry sheets
Eggs, beaten- 1 or 2
In a bowl, combine the diced up chicken with all the spices mentioned 'for marinating chicken'. Keep aside.
Into a saucepan kept over medium heat, add the the marinated chicken and cook covered till chicken has cooked well and the water that ooozed out of the chicken has dried off, stir fry till chicken turns slightly browned- tastes better when slightly browned.
Let cooked chicken cool down for a few minutes.
Shred the cooked chicken using your hand. Keep aside.
Place a saucepan over medium heat, add oil.
Add chopped onions, seaosn with 1 tsp salt. Saute for 2 minutes.
Add ginger, garlic, green chilies and curry leaves, cook till onions turn golden brown.
Add shreded chicken, cook for a few minutes.
Add garam masala and ½ tsp more salt, cook for a minute.
Add chopped cilantro, combine well.
Remove the pan from the heat and keep it covered.
This chicken filling can be made ahead of time and stored in the fridge or freezer for a few weeks, and can be used for making many snacks.
If using frozen puff pastry sheets, thaw it by keeping it on the counter top for an hour to 2 hours.
Pre-heat the oven to 400 F or 200 C.
Unfold the puff pastry sheets.
Cut into equal squares.
Beat the eggs using a whisk or fork taken in a bowl.
There are 2 ways of making puffs
- Place 1 to 2 tbsp of chicken filling on the puff pastry square and fold it. Glue and press the edges using a fork.
Using a pastry brush, spread the beaten egg over the puff pastry.
- Place chicken filling on one of the puff pastry squares, use another square to cover the chicken filling. Glue and press the edges using a fork.
Using a pastry brush, spread the beaten egg over the puff pastry. This will give a nice golden color while baking the puffs.
Place the chicken stuffed puff pastry sheets on a baking sheet lined with parchment paper.
Place in the pre-heated oven on the lower rack.
Bake for 20 minutes till puffs turn cripsy and golden in color.
Enjoy while the puffs are warm.
Puffs will turn soggy when kept in the fridge. So, enjoy while its warm. Btw, who can resist these flaky goodness???
-While making Chicken filling, chicken can be replaced with ground beef or cooked & shredded stew cut beef.
-Or after cooking onions, add hard boiled eggs.
Recipe by
Cooking with Thas - Healthy Recipes, Instant pot, Videos by Thasneen
at https://www.thasneen.com/cooking/easy-chicken-puffs-kerala-chicken-puffs-easy-chicken-filling/