Healthy Chia Pudding- No Cook, No Bake Chia Pudding in Coconut Milk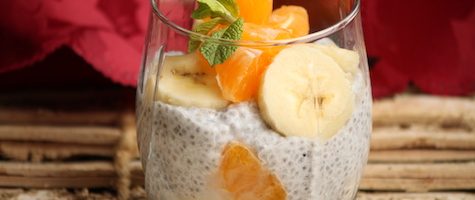 Chia seeds- 2 tbsp
Coconut Milk, thin- 1 cup (or almond milk/soya milk/regular milk)
Agave syrup- 2 tsp (or maple syrup)
Fresh fruits, diced- banana, orange, dates etc
This measurement is for making 1 bowl. For making more, increase the amount of ingredients accordingly.
In a bowl, add chia seeds and coconut milk. Combine the chia seeds well into the coconut milk without any lumps. If there are lumps, seeds won't plump up well.
Keep the bowl in the refrigerator, let soak overnight.
Or you can soak for an hour till seeds have plumped up.
The next morning for breakfast, take the bowl out of the refrigerator.
Add agave syrup or maple syrup, combine well.
Add the chia pudding into a glass.
Top with fresh fruits of your choice and enjoy this healthy pudding for breakfast or brunch.
Instead of coconut milk, you can use almond milk/soya milk or regular milk.
Recipe by
Cooking with Thas - Healthy Recipes, Instant pot, Videos by Thasneen
at https://www.thasneen.com/cooking/healthy-chia-pudding-no-cook-no-bake-chia-pudding-in-coconut-milk/