Shredded Chicken Sandwich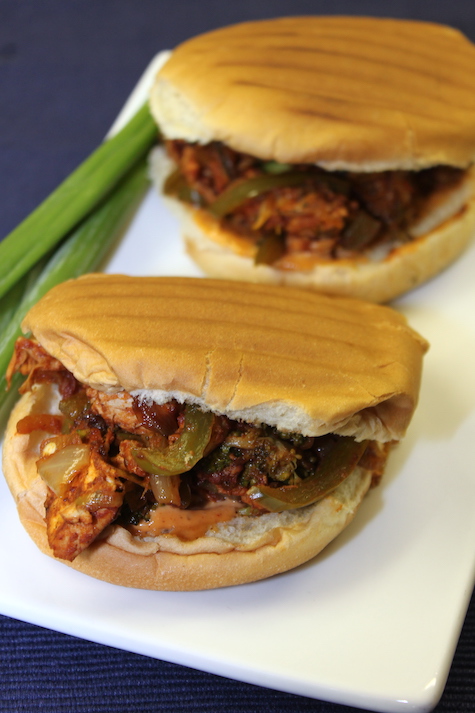 Cooked shredded chicken- 2 to 3 cups
Oil- 1 tbsp
Onion, sliced thin- 1
Green pepper, cut into thin wedges- 1
Broccoli, cut into small- 1 cup
Paprika- ½ tsp
Ground cumin- ½ tsp
Tomato paste- 3 tbsp
Cilantro, chopped- ¼ cup
Water- ¼ cup
Salt- 1 tsp
Hamburger buns
Chipotle Mayo or Mayonnaise
Season 2 chicken breasts with salt and pepper, cook covered till well done.
Let cool down and shred the chicken with a fork, keep aside.
Place a wide pan over medium heat. Add oil.
Add sliced onion, season with ½ tsp salt. Saute till onions start to turn light golden.
Add green pepper and broccoli, stir fry for a few minutes.
Add shredded chicken, combine well.
Add paprika, ground cumin and ½ tsp salt. Combine well.
Stir fry for 5 minutes and let veggies & chicken turn slightly browned (tastes better).
Add tomato paste, combine well.
Add ¼ cup water, cook for 3 minutes.
Add chopped cilantro, combine well.
Remove the pan from the heat, let cool down for a few minutes.
Grill the buns on a panini maker or on a pan placed over stovetop till light golden grill marks are formed.
Smear the buns with chipotle mayo or just plain mayonnaise.
Place the shredded chicken mixture on one of the buns, cover with the other bun.
If you prefer, you can top with shredded cheddar cheese.
Enjoy the sandwich along with chips or french fries.
Any kind of mixed veggies can be used.
Recipe by
Cooking with Thas - Healthy Recipes, Instant pot, Videos by Thasneen
at https://www.thasneen.com/cooking/shredded-chicken-sandwich/