Beetroot Cutlets- Beet Fritters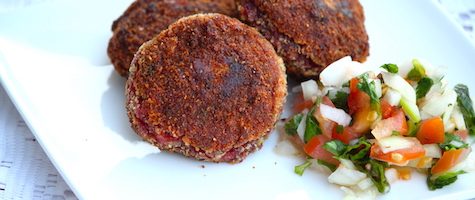 Beetroot, grated- 1 cup
Onion, chopped- ½ cup
Ginger- Garlic paste- 1 tsp
Chili powder- 1 tsp
Turmeric powder- ⅛ tsp
Cumin powder- ½ tsp
Coriander powder- 2 tsp
Garam Masala- ½ tsp
Salt- 1 tsp
Mashed potatoes- 2 medium potatoes
Cilantro, chopped- ¼ cup
Corn Starch- ¼ cup
Water- ¼ cup
Breadcrumbs
Oil- enough for frying
Onion, minced- 1
Tomato, chopped small- 1
Green Chili, minced- 1
Cilantro, chopped- 3 tbsp
Freshly squeezed Lime or Lemon juice- 1 tbsp
Salt- ½ tsp
Cook 2 medium potatoes in the microwave or cook in boiling water till well cooked. Let cool down, peel off the skin and mash well.
In a bowl, combine all the ingredients 'for making the patties'.
Make medium sized patties, flatten between the palm of your hands. Keep aside.
In a bowl, combine corn starch with water.
Spread breadcrumbs on a plate.
Place a non-stick frying pan over medium heat, add oil and let turn hot.
Dip the patties in cornstarch-water and then coat with breadcrumbs.
Drop them in the oil and deep fry till golden brown.
Transfer the fried cutlets on a kitchen paper towel.
In a bowl, combine all the ingredients mentioned for making the easy salad for cutlet.
Serve the cutlets along with easy salad: tastes delicious. I prefer this salad to tomato ketchup.
Mashed potatoes can be replaced with mashed cauliflower- healthy alternative.
Recipe by
Cooking with Thas - Healthy Recipes, Instant pot, Videos by Thasneen
at https://www.thasneen.com/cooking/beetroot-cutlets-beet-fritters/