Tiger Shrimp Korma- Shrimp in coconut milk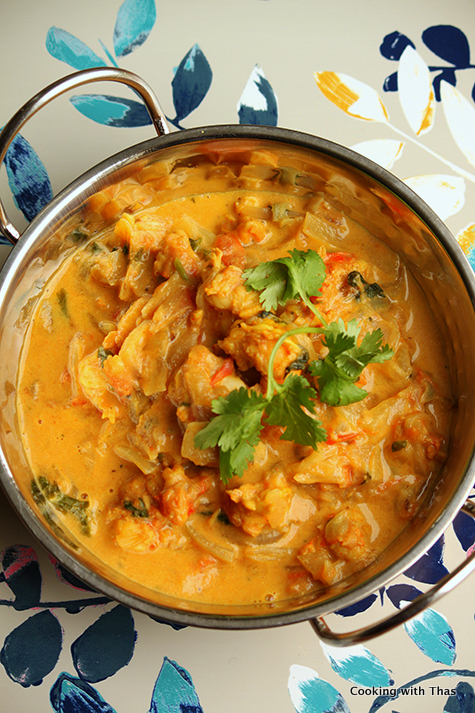 Tiger shrimp, shelled- 8, each shrimp diced into 3 pieces (or use regular 15 shrimp)
Chili powder- 1 tsp
Turmeric powder- ⅛ tsp
Garam masala- ½ tsp
Coriander powder- 1½ tsp
Salt- ½ tsp
Garlic, cloves- 3
Ginger- 1 inch slice
Green chilies- 2, chopped
Cumin seeds- ½ tsp
Coconut oil or Vegetable oil- 1 tbsp
Onion, sliced thin- 2
Tomatoes, chopped- 2
Coconut milk- ¾ cup
Water- ½ cup
Mint leaves, chopped- 5 leaves
Coriander leaves, chopped- 2 handful
Use shelled tiger shrimp, I diced each shrimp into 3 pieces. Or you could use regular shrimp.
Place the diced tiger shrimp in a large bowl, add chili powder, turmeric powder, garam masala, coriander powder and salt. Combine well and keep aside for 5 minutes.
In a mortar and pestle, crush the garlic, ginger, green chilies and cumin seeds. Or coarsely grind in a food processor. Keep aside.
Place a large non-stick pan over medium heat, add oil, let oil turn hot.
Add the crushed ginger/garlic/green chilies/cumin seeds, saute for a minute.
Add onions, season with a few pinches of salt and saute till onions turn golden brown.
Add tomatoes, combine well and let tomatoes cook well.
Add the marinated shrimp, combine well and cook covered for 10 minutes.
Open the lid, combine well and add coconut milk and water, give it a good mix.
Add mint leaves and coriander leaves, combine well and let cook for 2 to 3 minutes.
Remove the pan from the heat and keep covered for some time.
Serve this aromatic and delicious tiger shrimp korma with roti, rice, poori etc.