Cauliflower Fritters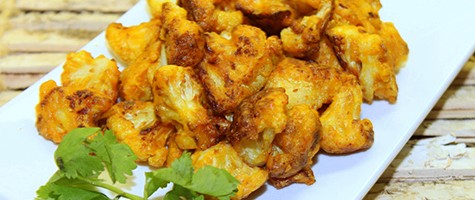 Cauliflower florets- separated from ½ of a cauliflower
Chili powder- ½ to 1 tsp
Turmeric powder- ¼ tsp
Cumin powder- ½ tsp
Salt- ½ tsp
Gram flour or besan or chickpea flour- ¾ cup
Water- 2 tbsp
Oil- ½ to 1 cup
Separate the florets from the cauliflower.
Soak the florets in warm water for 10 minutes, this way any small bugs in the cauliflower can be removed. Drain the water and rinse the florets taken in a strainer under running water.
Pat dry the florets and place them in a large bowl.
Add chili powder, turmeric powder, cumin powder and salt, combine well.
Add gramfour or besan, combine well.
Add water and combine well till the florets are evenly coated.
Place a frying pan over medium heat.
Add oil, let oil turn hot.
Place the florets in oil and fry till they turn crispy and light golden brown.
Place on a plate lined with kitchen paper towel.
Serve warm along with tomato ketchup or your favorite dipping sauce.