Lime-Orange Mocktail- Refreshing Mocktail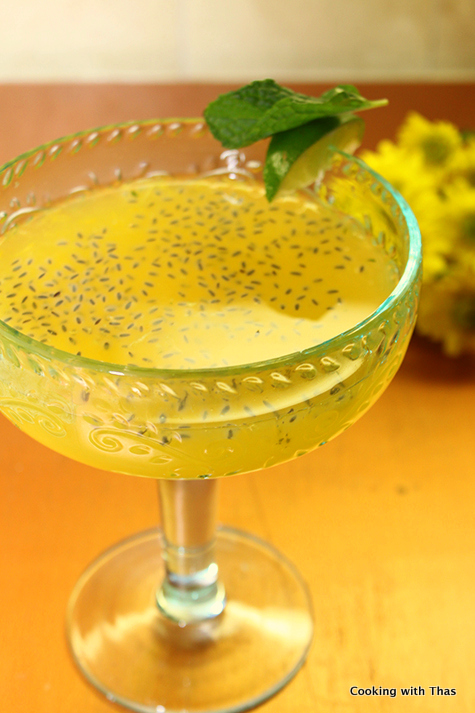 Fresh lime juice- juice from ½ lime
Fresh Orange Juice- juice from 1 orange
Grated ginger- ½ inch slice
Mint leaves, chopped- 4
Sugar- 1 tbsp or as required
Water- 1 cup
Basil seeds, soaked- ½ tbsp
Firstly, soak ½ tbsp basil seeds in water for 10 minutes- it will plump up after 10 mins.
I used a shaker to mix everything. You could just mix in a bowl.
Into a shaker, add lime juice, orange juice, grated ginger, mint leaves, sugar and water. Shake shake shake.
Pour into a glass. If you need more sugar add according to your needs.
If mixing the ingredients in a bowl, mix well and strain the juice into a glass.
Add soaked and plumped up basil seeds.
Place a lime wedge and mint leaf on the rim of the glass.
Enjoy this refreshing drink.
You could even add soda or ginger ale or sprite as well.
I like the taste of Lime better than Lemon for this mocktail, so make sure to use lime juice.
Recipe by
Cooking with Thas - Healthy Recipes, Instant pot, Videos by Thasneen
at https://www.thasneen.com/cooking/lime-orange-mocktail-refreshing-mocktail/