Sweet Corn Egg Drop Soup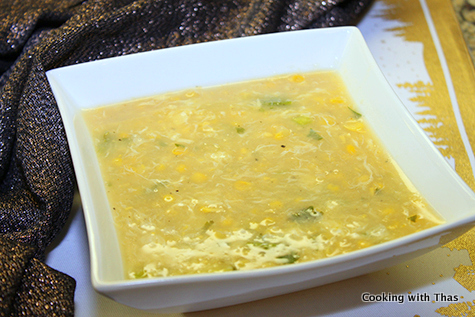 Chicken stock or Vegetable stock, homemade or store brought- 4½ cups (or add 2 chicken bouillon cube to 4½ cups water)
Cream style sweet corn, canned- 1 can (400 ml)
Eggs, beaten-2
Soy sauce- 2 tbsp
Rice Vinegar- 1½ tbsp (optional)
Ground pepper- ½ to ¾ tsp
Green onions, chopped- 2 stalks
Cilantro, chopped- 2 handfuls
Corn Starch, dissolved in water- 3 tbsp dissolved in 3 tbsp cold water
Sesame oil- 1 tsp
Either use chicken stock or vegetable stock or add 2 chicken bouillon cubes to 4½ cups water.
Heat up the stock taken in a large pot.
Add cream style sweet corn (or coarsely grind the corn kernels in a blender) into the stock, let cook for 3 to 4 minutes.
Add soy sauce and rice vinegar, combine well.
Beat the eggs well in a bowl.
Let the soup come to a rolling boil. Slowly pour the beaten eggs and keep stirring- pouring and stirring should happen simultaneously, otherwise egg will turn into lumps. Keep stirring till beautiful threads are formed.
Cook for 2 minutes.
Add green onions and cilantro, combine well.
Add ground pepper and salt-if required.
Add corn starch dissolved in cold water, keep stirring till soup has thickened.
Finally, add 1 tsp sesame oil, combine well.
Remove the pot from the heat, serve on soup bowls and enjoy the warm soup.
You could sprinkle some ground pepper while serving.