Eggs baked in Hash Browns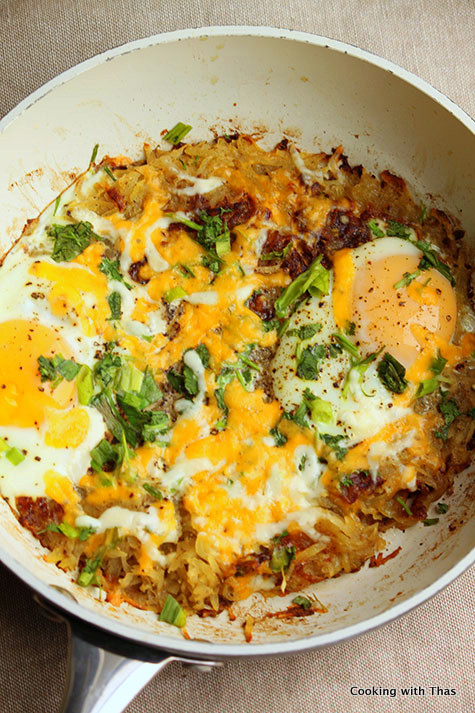 Potatoes, shredded- 3
Onion, shredded- 1
Salt- a few pinches
Ground pepper- a few pinches
Olive oil or Vegetable oil- 3 tbsp + 1 tbsp
Butter- 1 to 2 tbsp, chopped small
Eggs- 4
Paprika- ½ tsp
Ground pepper- 1 few pinches
Green onions, chopped- 2 stalks
Cilantro or Paprika, chopped- 2 handfuls
Cheddar cheese- 2 handfuls (optional)
Preheat oven to 375 F or 190 C.
Shred the potatoes and onion in a food processor or using a grater.
Add the shredded potatoes and onion into a strainer, have a bowl underneath the strainer.
Add salt, ground pepper and 1 tbsp Olive oil to the potatoes and onion. Combine well.
Using your hands, squeeze the potatoes and onion to release water from them. Discard the liquid.
Place a non-stick pan (oven proof) or cast iron skillet over medium heat. Add 3 tbsp olive oil on the pan, give it a swirl.
Spread the shredded potatoes and onion on the pan.
Let cook for a few minutes.
Add chopped butter towards the sides of the pan and let it melt.
Let the bottom side turn golden brown.
Cover the pan with a plate and flip it over.
Hash brown will fall onto the plate.
Slide it back into the pan with the browned side down. Let the other side turn golden brown as well.
Crack eggs onto the hash brown.
Sprinkle paprika, ground pepper, green onions and cilantro over the eggs.
If you want, you could sprinkle cheddar cheese over the eggs.
Place in the preheated oven and bake for 10 to 12 minutes till eggs have cooked well.
Take the pan out of the oven, let cool down for a few minutes and serve along with toast.