Whole Wheat Pancakes with Mixed Berries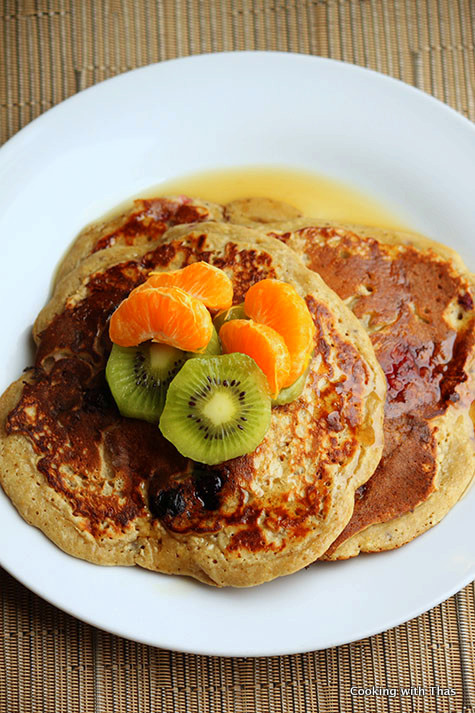 Whole Wheat flour- 1½ cups
Egg- 1
Sugar- 3 tbsp
Baking powder- ½ tsp
Vanilla extract- 1 tsp
Milk- 1¾ cups
Mixed berries- 1 cup (strawberries chopped, blueberries, raspberries and black berries)
Orange zest- zest from 1 small orange
Butter - ½ tbsp/pancake
Maple syrup and fresh fruits while serving
In a large bowl, combine together whole wheat flour, egg, sugar and baking powder.
Add vanilla extract, milk, combine well using a whisk till smooth.
Add mixed berries and orange zest, combine well.
Place a non-stick pan over medium heat, add ½ tbsp butter.
Add a large spoonful of batter onto the pan, spread the batter using the back of the spoon to a round shape.
Let cook and bottom side turn golden.
Flip it over and let other side turn golden as well.
Transfer to a plate.
While serving top with fresh fruits of your choice and pour maple syrup over the pancakes.