Grilled Whole Turkey Recipe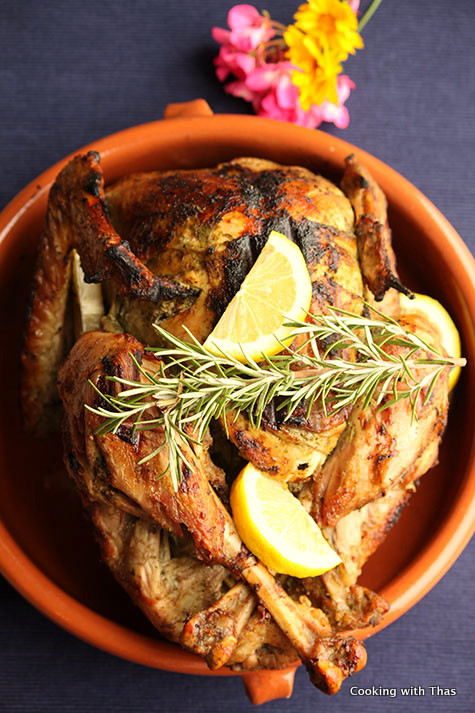 Whole Turkey- 8 to 10 lbs or 5 Kg
Non-stick cooking spray
Ginger, roughly chopped- 3 inch slice
Garlic cloves- 6 cloves
Green chilies- 5 to 7
Fresh Cilantro, roughly chopped- 1½ cups
Fresh Mint leaves- 20
Curry leaves- 2 sprigs (optional)
Whole black pepper corns- 2 tsp
Whole Cardamom- 5
Turmeric powder- ½ tsp (optional)
Salt- 2 tsp (or to taste)
Lemon juice- juice of 1 lemon + more lemon juice wile grilling
Water- enough to make a paste
Frozen whole Turkey has to be thawed in the refrigerator for 24 hours. After that place the turkey with the skin in cold water for a few hours till it has completely thawed.
Squeeze lemon juice all over the turkey and inside the cavity, give a good massage and rinse under running water.
Into a blender, add all the above mentioned ingredients 'for making the marinade' and add enough water to make a smooth paste.
Spread the marinade all over the turkey and inside the cavity as well. Place it in a large bowl, cover with plastic wrap and keep aside for 3 to 4 hours or overnight.
Place the whole turkey into a large pressure cooker and close the lid. I didn't place the whistle.
Save the marinade that's left in the bowl- while grilling we will use this to spread on the turkey.
Let cook for 1 hour and 15 minutes or till the turkey has almost cooked well.
Take the cooked turkey out of the cooker.
Save the liquid in the pressure cooker- turkey broth, can be used for making gravy (heat the liquid and add 2 tbsp corn starch combined with 1 tbsp cold water, keep stirring and cook till gravy thickens).
Have the grill ready, grease the grill with non-stick cooking oil.
Spread some marinade from the bowl on the turkey, spray non-stick cooking oil over it.
Place it on the grill, cover the grill and let grill.
After 10 to 15 minutes of grilling, flip over the turkey- spread some more marinade, salt if required, drizzle lemon juice, spray non-stick cooking oil and grill. If you want, sprinkle some ground pepper as well.
Grill while flipping often, till all the sides have turned slight brown.
Transfer to a large platter, garnish with lemon wedges and fresh herbs and serve.
Enjoy with family and friends.