Healthy Cauliflower Tikka Masala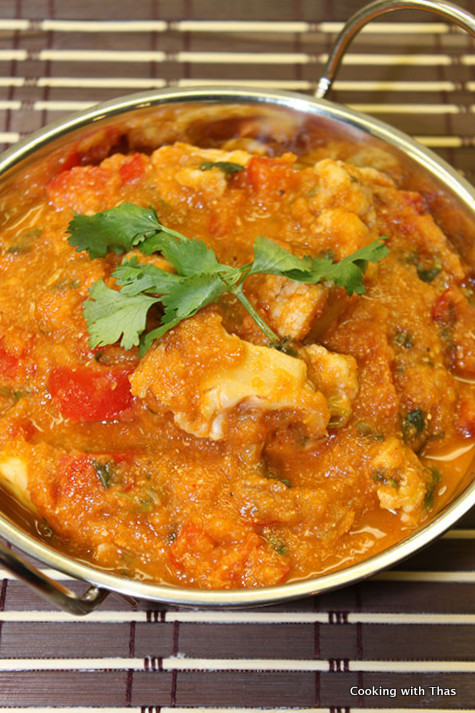 Cauliflower, florets- florets from 1 medium sized cauliflower
Kashmiri Red Chili Powder- 1½ tsp
Coriander powder- 1½ tsp
Garam masala- ½ tsp
Cumin powder- ½ tsp
Yogurt- 4 tbsp
Salt- ½ tsp
Oil- 2 tbsp
Onion, chopped- 2
Tomato paste- 4 tbsp
Water- 1 cup + ½ cup
Red pepper, diced- 1
Kashmiri chili powder- ½ tsp
Garam Masala- ½ tsp
Salt- to taste
Cilantro, chopped- ¼ cup
Heavy Cream, if required- ¼ cup (optional)
Dried fenugreek leaves- 1 tsp (optional)
In a large bowl, combine together Kashmiri red chili Powder, coriander powder, garam masala, cumin powder, yogurt and salt.
Add cauliflower florets and combine well till evenly coated. Keep aside for 15 minutes.
Preheat oven to 400 F or 200 C.
Line a baking sheet with aluminum foil.
Spread the marinated cauliflower florets on the aluminum foil.
Bake for 40 minutes.
Place a large non-stick cooking pan over medium heat. Add oil.
Add chopped onion, season with salt.
Add tomato paste and cook till onions turn slightly translucent.
Remove the pan from the heat, let onions cool down a bit.
Add the cooked onions into a blender and make into a smooth paste along with 1 cup water.
Pour the pureed onions back into the pan.
Add ½ cup water to thin down the gravy, combine well and cook for a few minutes.
Add red pepper and baked cauliflower to the gravy, combine well and cook covered for 5 minutes.
Add Kashmiri chili powder, garam masala and required salt, combine well. Cook for a few minutes.
Add cilantro and dried fenugreek leaves if using, combine well.
If you prefer, you could also add ¼ cup cream towards the end and cook for 2 minutes.
Serve along with roti, naan or basmati rice.