Coffee Pecan Cake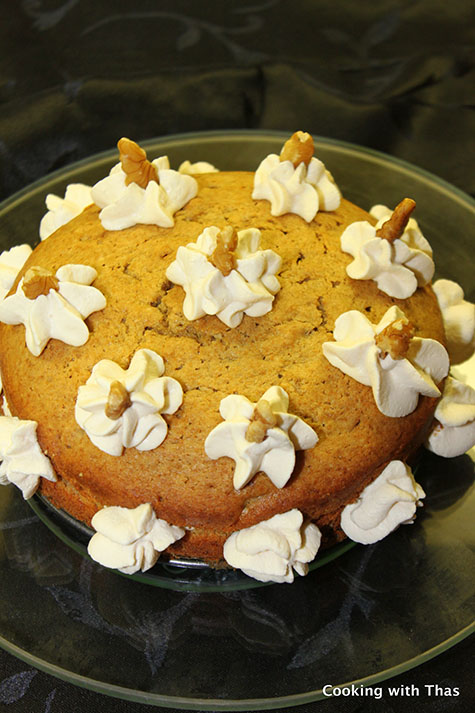 All purpose flour- 1¾ cups
Baking powder- 1½ tsp
Baking Soda- ¼ tsp
Salt- ½ tsp
Butter, unsalted at room temperature- ¾ cup
White sugar- ½ cup
Brown sugar- ½ cup
Eggs, large- 3
Vanilla extract- 1 tsp
Milk- ⅓ cup
Espresso or Instant coffee- 1½ tbsp mixed with 1 tbsp hot water
Pecans, chopped- ½ cup (or use walnuts or almonds)
Heavy Whipping cream, cold- 2 cups
Powdered sugar- 4 tbsp
Vanilla extract- 1 tsp
Espresso or Instant coffee- 1 tbsp
Preheat oven to 350 F or 180 degrees C.
In a large bowl, combine flour, baking powder, baking soda and salt together.
Use either a stand mixer or an electric hand mixer.
Into the stand mixer bowl, add the butter. Using the paddle attachment, beat till butter turns smooth.
Add white sugar and brown sugar, beat till light and fluffy. Using a spatula, scrape down the sides and bottom of the bowl.
Add eggs, one at a time and beat well after each addition.
Add vanilla extract and beat for a few seconds. Scrap down the sides and bottom of the bowl- this is for even mixing.
Add the flour mix in three additions, alternating with milk and coffee: starting and ending with the flour.
Combine on low speed till well incorporated.
Add chopped pecans, combine well.
You could bake in a large cake pan or in a two 8 inch cake pans.
Line the bottom of the pans with parchment paper and grease with melted butter.
Pour the cake batter into the pans and smooth the top with a spatula.
Place the cake pans on the middle rack in the oven.
Bake for 35 to 40 minutes or until a fork inserted into the center of the cake comes out clean. For me, it took 40 minutes- depends on the oven temperature.
Take the baked cakes out of the oven. Place on wire racks and let cool down completely.
Remove the parchment paper.
In a stand mixer with whisk attachment: add cold whipping cream, sugar, vanilla extract and instant coffee. Beat at high speed till soft peaks are formed.
Place the whipped cream frosting in the refrigerator for 30 minutes to set well.
If you have baked one large cake: using a sharp kinife: cut horizontally into 2 equal halves.
Spread the frosting on one of the layers and place the other layer on top.
You could frost the entire cake if you want- frost based on your preference.
You can skip frosting as well.
You can serve the cake immediately or chill it for 30 minutes. Leftover cake can be refrigerated for 2 days. Enjoy!