Banana Pancakes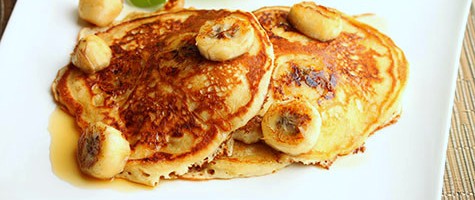 All purpose flour- 1 cup
Sugar- 2 tbsp
Baking powder- 2 tsp
Salt- ¼ tsp
Egg- 1
Milk- 1 cup
Vanilla extract- 1 tsp
Butter, melted- 2 tbsp
Butter- to cook pancakes
Ripe Bananas, cut into rounds- 3
Maple syrup or pancake syrup- while serving
Into a large bowl, combine flour, sugar, baking powder and salt well.
Add egg, mix well using a fork.
Add milk, combine well.
Add vanilla extract and melted butter, using a whisk combine the batter well without any lumps.
Place a non-stick pan over medium heat, add ½ tbsp butter let it melt.
Place 2 to 3 round cut bananas on the pan.
Pour a spoonful of batter over the bananas, let bottom side turn golden.
Flip it over and let the other side cook as well.
Transfer to a plate and repeat with the rest of the batter.
You could even roast some bananas in butter for topping the pancakes.
While serving, place pancakes on a plate, top with butter roasted bananas and drizzle maple syrup or pancake syrup over it.
Serve while warm and enjoy.