Coconut Cream Pie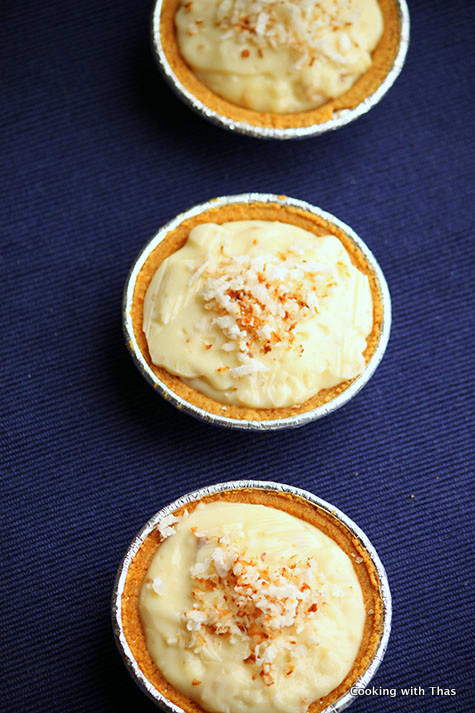 Grated coconut or dried coconut flakes- 1¼ cups
Sugar- 1 tbsp
Milk- ¾ cup + ¼ cup
Coconut milk, unsweetened- 1½ cups
Egg yolks- 3
Sugar- ⅔ cup
Corn starch- ¼ cup
Salt- ¼ tsp
Butter, unsalted- 2 tbsp cut into chunks
Vanilla extract- 1 tsp
Pre-baked pie crust
You could use frozen grated coconut that's been thawed or store bought sweetened dried coconut flakes.
If using frozen grated coconut Thaw it and then add to a pan over medium heat.
Add 1 tbsp sugar to the coconut and toast till golden in color. Keep aside the toasted coconut.
If using store bought dried coconut flakes Toast till golden in the oven at 350 F for 10 minutes or in a pan over stove top. No need to add sugar if using sweetened coconut flakes. Keep aside.
Place a saucepan over medium heat, add ¾ cup milk and coconut milk, let come to a boil.
In a bowl, combine sugar, cornstarch and salt, keep aside.
In another large bowl, add egg yolks and ¼ cup milk, whisk well till well incorporated.
Add the sugar-corn starch mix to the yolk/milk mixture and combine well using a whisk.
Now, add the boiled milk-coconut milk and whisk continuously so that no lumps are formed.
Transfer the mixture back to the saucepan and cook over medium heat, stirring continuously using a whisk till the mixture thickens.
Remove the saucepan from the heat, add butter and vanilla extract, combine well till butter has dissolved.
Add 1 cup toasted coconut and combine well.
Let cool down for a few minutes.
You could use pre-baked mini pie crust or a 8 inch pie crust.
Spoon the coconut cream into the mini pie crust.
Keep in the refrigerator for 4 hours or overnight till the coconut cream has set well.
While serving, top with remaining ¼ cup toasted coconut. If you prefer you could even top with whipped cream. Enjoy.