Chickpeas Sundal Recipe- Instant Pot Recipes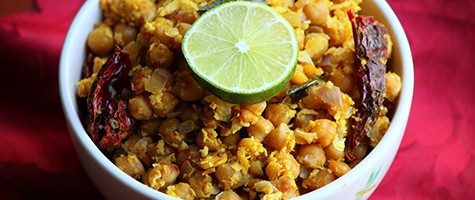 Chickpeas, cooked- 3 cups
Coconut Oil- 2 tbsp
Mustard seeds- 1 tsp
Cumin seeds- 1 tsp
Whole dry red chilies, halved- 2
Curry leaves- 1 sprig
Onion, chopped small- 1
Chili powder- ½ to 1 tsp
Turmeric powder- ½ tsp
Grated coconut- 1 cup
Ground black pepper- ¼ tsp
Lemon juice- 1 tbsp
Salt- 1 tsp
Cilantro, chopped- ¼ cup
Cooking dried chickpeas in the Instant pot: Add 3 cups of dried chickpeas along with 4 cups water into the stainless steel pot. Click pressure cook setting, adjust pressure to high and set time to 25 minutes. After 25 minutes of cooking, let the pressure release naturally for 5 minutes & then do a quick pressure release.
Select saute setting, temperature should be medium or normal.
Let the pot turn hot and you will see hot displayed on the screen.
Add oil, let oil turn hot.
Add mustard seeds, let it splutter.
Add cumin seeds.
Roughly break the dried red chilies and add to the oil.
Add curry leaves, saute for 2 seconds.
Add onion, season with ½ tsp salt.
Saute till onion turns translucent.
Add chili powder & turmeric powder, combine well.
Add grated coconut, saute for 2 to 3 minutes till coconut turns light brown in color.
Add 3 cups of cooked chickpeas, combine well.
Add ½ tsp more salt.
Saute for 2 to 3 minutes.
Finally, drizzle lemon juice, combine well, and cook for a minute.
Garnish with cilantro.
Enjoy.