Butter Cookies or Kerala Nankatta Recipe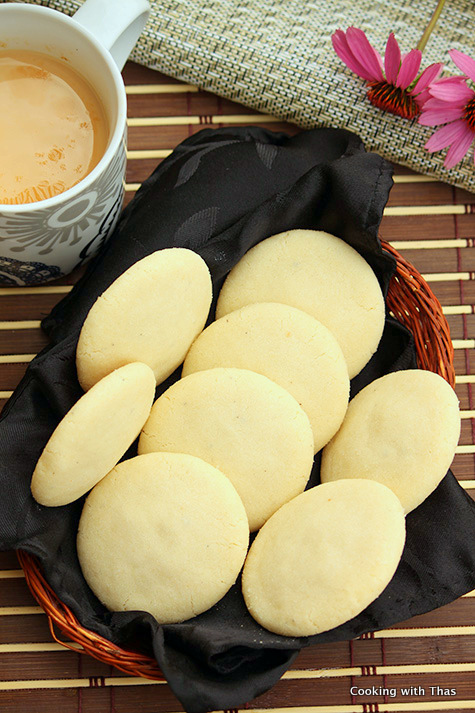 Unsalted Butter, softened- ½ cup or 1 stick
Powdered Sugar- ½ cup (powder white granulated sugar in a blender)
All purpose flour- 1 cup
Baking powder- ¼ tsp
Salt- ⅛ tsp
Cardamom powder- ¼ tsp
Soften the butter either in the microwave or keep it on the countertop at room temperature till softened.
Grind white granulated sugar to a fine powder in a blender.
Add softened butter and powdered sugar- add sugar little by little to the butter, using a spatula mix well for a few minutes till soft.
Combine together all purpose flour, baking powder, salt and cardamom powder.
Add the flour mix to the combined butter-sugar little by little and keep combining using the spatula.
Once combined, knead the dough using your hand. Knead well for a few minutes.
Wrap the dough in a plastic wrap and keep aside for 20 minutes.
Preheat oven to 300 F or 150 C.
After 20 minutes, make small balls out of the dough without any cracks (keep rolling between the palm of your hands till the surface turns smooth) and place them on a baking sheet lined with parchment paper.
Place in the oven on the middle rack and bake for 25 minutes. After 25 minutes, if it's too soft you can bake for another 5 more minutes. Do not let it turn brown, it should be white in color, bottom side should be golden in color.
Remove from the oven and let cool down for 10 minutes- this step is very important, after the cookies cool down will set well.
These cookies won't turn too hard, it will be soft and will just melt into your mouth.