1 minute Quinoa- Instant Pot Recipes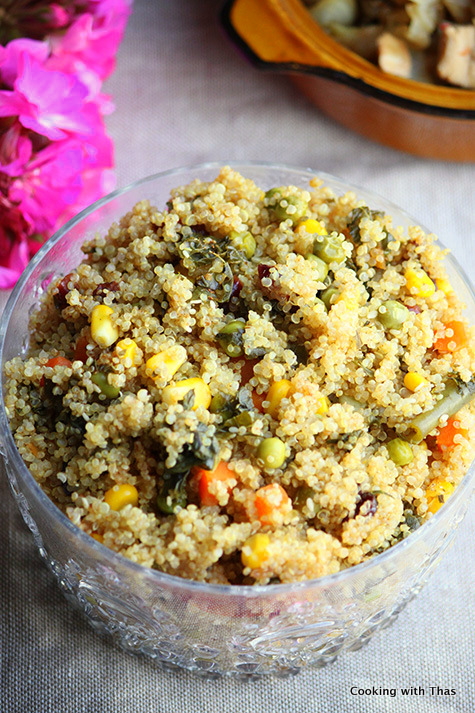 Quinoa, rinsed- 1½ cups
Mixed veggies- 1 cup
Kale leaves, chopped- 3 leaves
Dried cranberries- 1 handful (optional or use raisins)
Paprika- ½ tsp
Dried oregano- 1 tsp
Ground cumin-1/2 tsp
Salt- a few pinches
Sesame seeds- 2 tbsp (optional)
Water- 1½ cups
Rinse quinoa in water, I didn't soak the quinoa.
Into the pot add all the above mentioned ingredients.
You could add any kind of seasonings you want.
Close the lid properly. Make sure pressure release valve is in sealing position.
Click Manual, then click Pressure- choose high pressure.
Set time to 1 minute and walk away.
It will take 10 minutes for the pressure to build, after that the timer will start.
After 1 minute, you will hear the beeps.
Do a Quick pressure release after you hear the beeps.
Perfectly cooked quinoa is ready to be served.
I like the bite of dried cranberries- it has a sweet and tart taste. If you don't have dried cranberries, add raisins instead.
Serve Mixed veg quinoa along with grilled or baked chicken, fish or roasted veggies.
To make chicken or beef Quinoa: Add cooked chicken or beef along with quinoa and cook for a minute.
Recipe by
Cooking with Thas - Healthy Recipes, Instant pot, Videos by Thasneen
at https://www.thasneen.com/cooking/1-minute-quinoa-instant-pot-recipes/