Easy Puff Pastry Dessert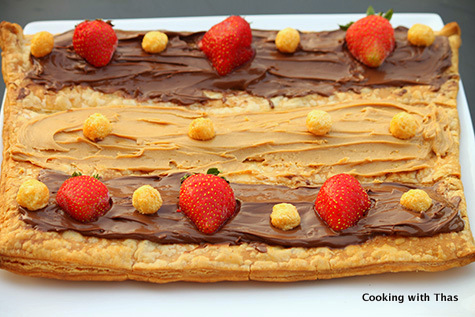 Puff Pastry sheet- 1 or according to your needs
Nutella
Peanut butter
Strawberries, halved
Corn Pops
Chocolate chips
Or use any kind of your favorite toppings
Thaw the frozen puff pastry sheet for 15 minutes.
Preheat oven to 400 F or 200 C.
Place the thawed puff pastry sheet on a baking sheet.
Bake for 20 minutes till golden and crispy.
Remove the baked puff pastry sheet from the oven, let cool down for a few minutes.
Smear with Nutella, peanut butter or your favoirte spread.
Top with strawberries, corn pops and chocolate chips or with your favoirte fruits, nuts, chocolates etc.
Enjoy the crispy and sweet goodness.