Pesto Chicken Orzo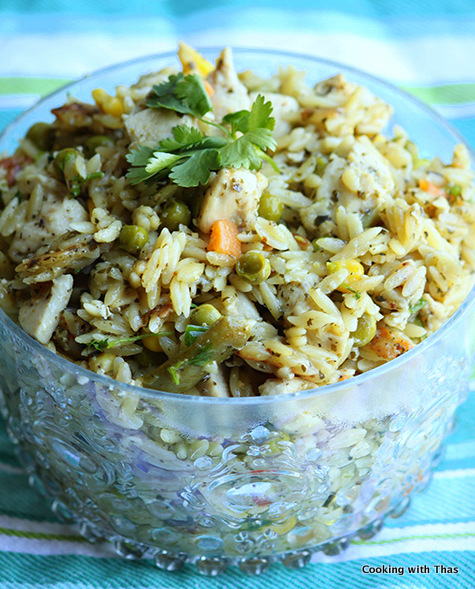 Chicken breasts or thighs, diced- 2 breasts or thighs
Basil Pesto- 2 tbsp
Ground pepper- ¼ tsp
Mixed Veggies, cut small- 1½ cups
Basil Pesto- 3 to 4 tbsp
Orzo-1½ cups
Water- 2½ cups
Ground pepper- ½ tsp
Salt- if required
Green onions, chopped- 2 handfuls
Cilantro or Parsley, chopped- 2 handfuls
In a bowl, combine diced chicken along with basil pesto and ground pepper.
Place a wide non-stick cooking pan over medium heat.
Add the marinated chicken and cook covered till chicken has almost cooked.
Add mixed veggies and cook till veggies turn slightly tender.
Add pesto, combine well.
Add orzo and water, cook covered till orzo has turned tender and water has dried off.
Combine well and season with ground pepper and salt if needed.
Add green onions and cilantro or parsley. Combine well and cook for a couple of minutes.
Remove the pan from the heat.
Serve while it's hot. Leftovers can be refrigerated, can be taken for lunch.