Easy Broccoli Fritters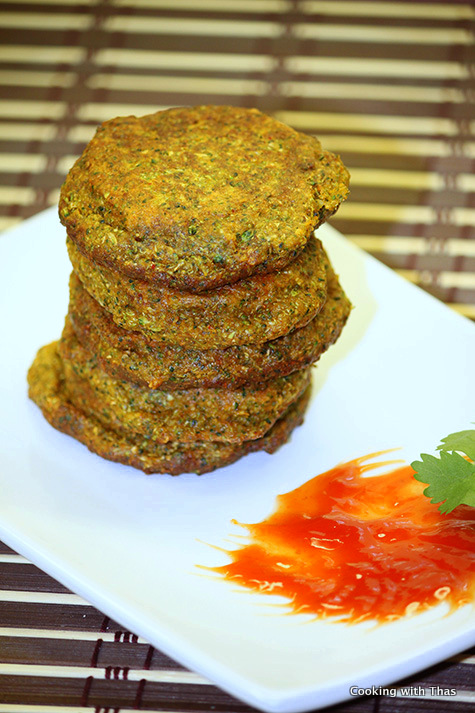 Grated Broccoli florets- 1 medium sized broccoli
Ground cumin- ¾ tsp
Chili powder- ¾ tsp
Garam Masala- ½ tsp (optional)
Salt- ⅛ tsp
Gram flour or chickpea flour or besan- ¾ cup
Water- 2 to 3 tbsp
Oil- enough to deep fry (or shallow fry the fritters)
Remove the broccoli florets from a medium sized broccoli. Add to a food processor and coarsely grate it.
Transfer to a bowl, add ground cumin, chili powder, garam masala and salt, combine well.
Add gram flour, combine well.
Add 2 to 3 tbsp water and combine well, you should be able to make patties out of the mixture. Do not make the mixture watery.
Heat enough oil to fry in a frying pan. Or pan fry the fritters in little oil.
Make medium sized patties out of the broccoli mixture, place the patties in hot oil and fry till both sides turn golden in color and crispy.
Transfer to a plate lined with paper towel.
Serve along with tomato ketchup or any of your favorite dipping sauce.