Chilled Cashew Nut Milk with Fruits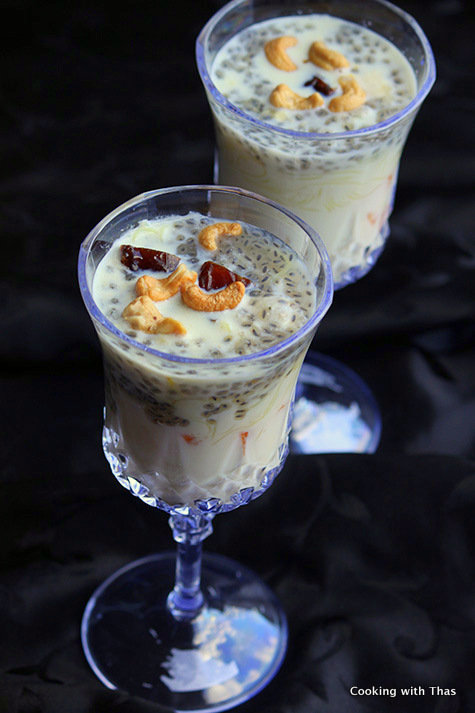 Milk- 1½ cups
Condensed Milk- 4 tbsp
Roasted Cashew Nuts- ¼ cup- grind with ¼ cup water
Saffron- 2 pinches
Mixed Fruits- chopped apple, banana, orange
Falooda sev- 2 tbsp/glass
Soaked basil seeds- 3 tbsp/glass (takmaria or sabja)
Dates, chopped
Cashew nuts
Honey- ½ tbsp/glass
Cut falooda sev into 2 inches. Add ½ cup of cut falooda sev into a saucepan along with 1 cup water, cook till it turns soft. Drain the water and keep aside. You can even use thin vermicelli.
Soak ½ tbsp basil seeds or takmaria or sabja in ¼ cup water till they have plumped up.
You can use a mix of your favorite fruits.
Grind cashew nuts along with water till smooth.
Place a saucepan over medium heat, add milk, condensed milk, ground cashew nuts and saffron.
Cook till the milk starts to boil, lower the heat and cook for 2 more minutes.
Let the cashew nut milk cool down, after that chill it in the refrigerator.
While serving, into a tall glass: add mixed fruits, 2 tbsp of cooked falooda sev, 3 tbsp soaked basil seeds, pour the chilled cashew nut milk. Top with chopped dates, cashew nuts and drizzle ½ tbsp honey over it.
If you want you could even add a scoop of ice cream into the cashew nut milk. Drizzle with strawberry or caramel syrup etc etc.