Hakka Chili Chicken- Indo Chinese Style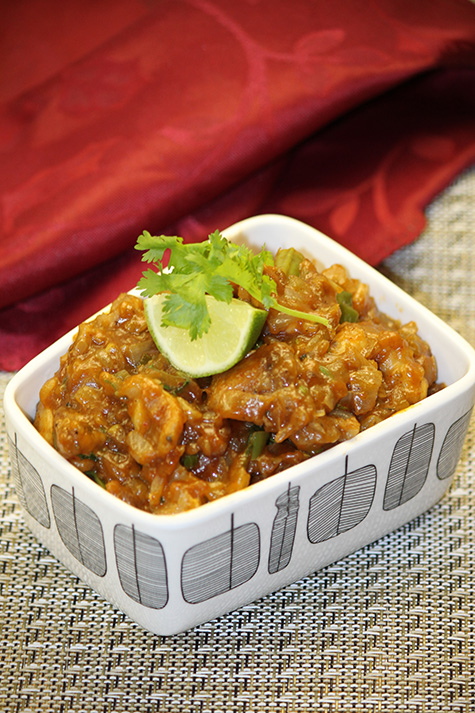 Chicken breasts or thighs, boneless and cubed- 2 breasts or thighs
Ground pepper- ½ tsp
Salt- a few pinches
Corn Starch- 3 tbsp
Oil- enough to shallow fry
Water- 1 cup
Corn starch- 1 tbsp
Soy Sauce- 3 tbsp
Tomato Ketchup- 1 tbsp
Oil- 2 tbsp
Onion, chopped small- 2
Ginger, chopped- 2 inch slice
Garlic, chopped- 2 cloves
Green chilies, halved- 2
Cumin powder- ½ tsp
Coriander powder- 1 tsp
Chili powder- ½ to ¾ tsp (optional if you want this dish to be spicy)
Green onions, chopped- 2 stalks
Cilantro, chopped- 2 handfuls
In a bowl, combine together chicken, ground pepper, salt and corn starch. Keep aside for 5 minutes.
Place a saucepan over medium heat, add enough oil for shallow frying.
Add the marinated chicken to the oil and shallow fry till golden in color.
Transfer the chicken to a plate lined with kitchen paper towel.
In a bowl, combine all the ingredients mentioned for 'making the sauce'.
Use the same pan, add 2 tbsp oil used for shallow frying chicken.
Add chopped onions, saute for 2 minutes.
Add ginger, garlic and green chilies, saute till onions turn light golden in color.
Add cumin powder, coriander powder and chili powder, combine well and cook for a few seconds.
Add the shallow fried chicken to the pan, combine well.
Add the prepared sauce and combine well and cook till the gravy thickens.
Add green onions and cilantro, stir fry for 2 minutes.
Remove the pan from the heat.
Serve with rice, noodles, roti etc.