Baked Beef Balls with Spinach Spaghetti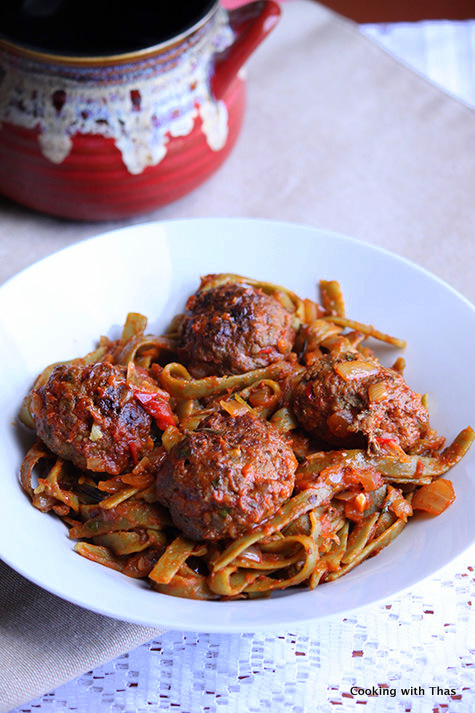 Ground beef- 1 lb or ½ Kg
Onion, chopped small- 1
Red pepper, chopped small- 1
Ground Cumin- ½ tsp
Chili powder- ¾ tsp
Oregano, dried- 1 tsp
Paprika- 1 tsp (optional)
Soy sauce- 1 tbsp
Ground pepper- ¼ tsp
Cilantro, chopped- 2 handfuls
Salt- a few pinches
Oil- 1 tbsp
Garlic cloves, chopped- 2
Red chilli flakes- ½ tsp
Onion, chopped- 1
Rosemary leaves- 1 sprig
Tomato paste- 1 can (150 mL)
Water- 2 cups
Cooked spinach spaghetti
Salt- to taste
Preheat oven to 400 F.
In a large bowl, combine all the ingredients mentioned for "making beef balls".
Make medium sized balls, place on a baking sheet lined with aluminum foil.
Bake for 50 minutes, flipping the balls over half way through.
Remove the baked balls from the oven and keep aside.
Cook spinach spaghetti or regular spaghetti in boiling water till it turns tender. Drain water, drizzle oil over the cooked spaghetti, combine well and keep aside.
Place a large pan over medium heat, add oil.
Add garlic, saute for a few seconds.
Add red chili flakes, saute for 2 seconds.
Add chopped onion, season with salt and add rosemary leaves.
Saute till onion turns light golden in color.
Add tomato paste, combine well, add water and combine well.
Add salt accordingly for taste.
Add the baked beef balls, combine well and let cook for 5 minutes.
Add the cooked spaghetti, combine everything well and cook for 2 minutes.
Garnish with cilantro or parsley if you prefer.
Serve in a plate and enjoy.