Cauliflower and Lentil Curry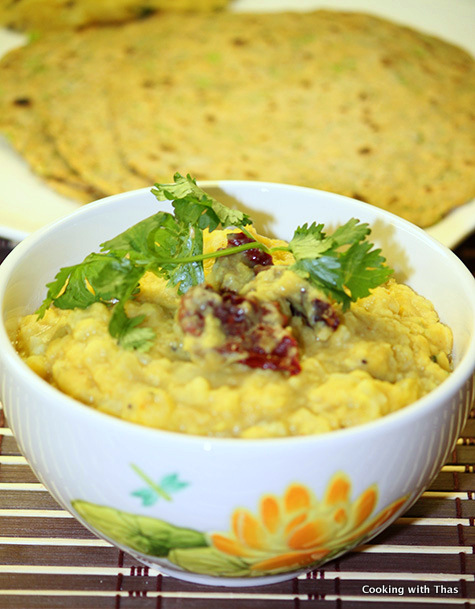 Oil- 1 tbsp
Moong dal- 1 cup (or use Red lentil or Masoor Dal)
Cauliflower, florets- 2 cups
Chili Powder- 1 tsp
Coriander powder- 2 tsp
Ground Cumin- ½ tsp
Garam masala- ½ tsp
Salt- ½ tsp
Water- 3 cups
Cilantro, chopped- 2 handfuls
Ghee- 2 tbsp
Mustard seeds- ¾ tsp
Dry Red chilies- 2
Place a pressure cooker over medium heat, add oil.
Add moong dal, cauliflower, chili powder, coriander powder, ground cumin, garam masala, salt and water. Combine well.
Cover the cooker with its lid and cook till 2 to 3 whistles.
Let the pressure subside and open the lid.
The gravy will be thick. If you want to thin it down add ¼ cup water to it and heat for a few minutes.
Add cilantro, combine well.
Place a small frying pan over medium heat, add ghee and let it turn hot.
Add mustard seeds, let it splutter.
Half the dry red chilies using your fingers and add to the pan.
Saute for a few seconds.
Add this to the cooked cauliflower and lentil mixture, combine well.
Keep covered for a few minutes.
Serve along with Rice or Rotis.