Mutta Surka- Pan Fried Rice and Egg Snack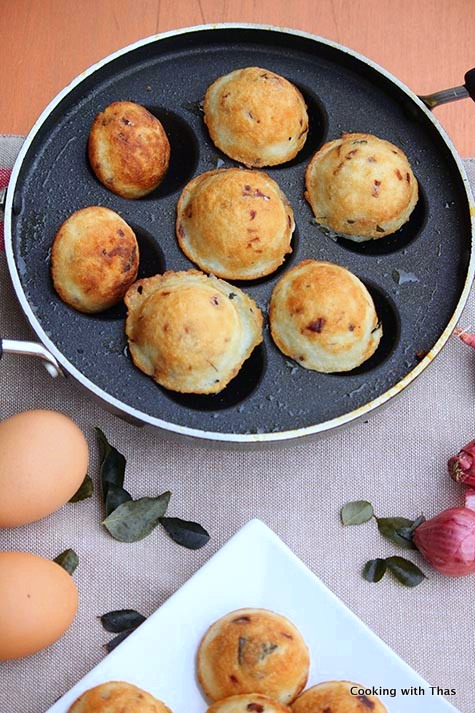 Rice flour, roasted- 1 cup
Grated Coconut- ¾ cup
Small onions, chopped small- 5
Ginger, minced- 1 inch slice
Green chilies, chopped- 2
Curry leaves- 1 sprig
Egg- 1
Salt- ¼ tsp
Water- 1¼ cups + 2 tbsp
Oil- for frying
Into a large bowl, add rice flour, grated coconut, small onions, ginger, green chilies, curry leaves, egg and salt. Combine well.
Add water little by little and combine well using a fork till a slightly thick batter has formed. Don't make it too thick nor too watery. I had to add 1¼ cups + 2 tbsp water to get the right constituency.
Place the non-stick pan with cavities (also called paniyaram pan) over medium heat. Let turn hot.
Add 1 tsp oil onto each cavity, let turn hot.
Pour 1 tbsp of batter onto each cavity.
Cover the pan with a lid and cook for 4 minutes till the bottom side turns golden in color.
The center shouldn't cook well, it should be slightly watery, using a fork flip it over to the other side and cook till well done.
Note: to get the round shape: you should flip it over when the center is slightly watery, if the center has cooked well the base will be flat.
Transfer to a plate lined with paper towel.
Enjoy these savoury mutta surka while it's warm, you can serve along with tomato ketchup.
Mutta surka and cardamom tea is a match made in heaven. Delish!
You can roast the rice flour taken in a non-stick pan over stove top till the flour turns aromatic and starts to turn light golden. Or spread the flour on a baking sheet and place into an oven pre heated to lowest temperature and bake for 15 minutes.
Recipe by
Cooking with Thas - Healthy Recipes, Instant pot, Videos by Thasneen
at https://www.thasneen.com/cooking/mutta-surka-pan-fried-rice-and-egg-snack/