Asparagus Red Lentil Soup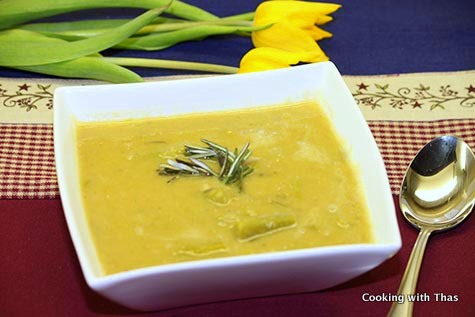 Oil- 1 tbsp
Dry Red Chili flakes- ¾ tsp
Fresh Rosemary leaves- 1 sprig
Yellow Onion, chopped- 1
Asparagus, hard ends removed and spears cut into 2 inch slices- 1 bunch or 10 spears
Red lentil- 1 cup
Chicken stock, low-sodium- 3 cups (or use vegetable stock)
Ground pepper- a few pinches
Salt- to taste, if required
Place a large non-stick pan over medium heat, add oil. Let it turn hot.
Add dry red chili flakes and rosemary leaves, saute for a few seconds. Do not burn the chili flakes.
Add onion, saute till translucent.
Add asparagus and red lentil, saute for a minute.
Add chicken stock (or 2 chicken bouillon cubes mixed with 3 cups water).
Cook covered till asparagus and red lentil turns soft.
Take out a few asparagus from the mixture and save them for garnishing.
Add the cooked asparagus and red lentil mixture to a blender jar and coarsely puree or use a hand blender. Avoid making into a very smooth paste.
Transfer the pureed soup back to the pan.
If the soup is too thick, add some chicken stock or water to thin it down.
Heat up the soup for 2 minutes.
Add ground pepper, if required add salt as well. Combine well.
Serve in soup bowls, garnish with asparagus and rosemary leaves.
Enjoy with crackers or rolls or bread.
To make vegetarian version: add vegetable stock instead of chicken stock.
Recipe by
Cooking with Thas - Healthy Recipes, Instant pot, Videos by Thasneen
at https://www.thasneen.com/cooking/asparagus-red-lentil-soup/