Tomato Lentil Soup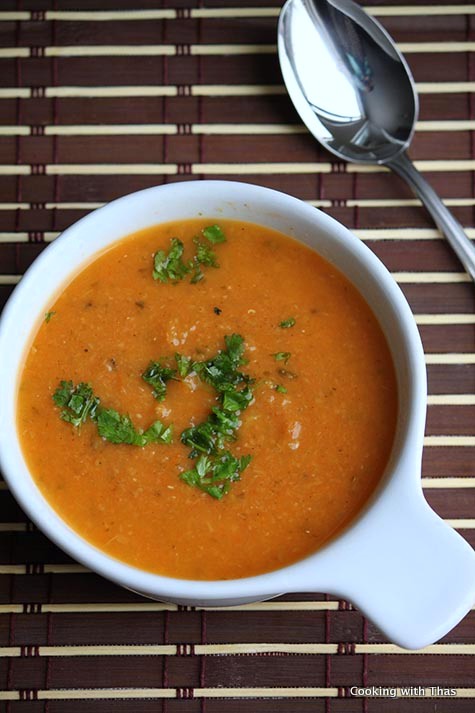 Oil- 1 tbsp
Onion, chopped- 1
Garlic, chopped- 1 large clove
Celery, diced small- 1 stalk
Rosemary leaves- from 1 stalk (or add oregano or any other dried herb)
Tomatoes, chopped- 3
Paprika- ½ tsp
Ground cumin- ½ tsp
Red lentil- ½ cup
Chicken stock or Vegetable stock- 4 cups
Ground pepper- ½ tsp
Cilantro, chopped- 2 handfuls
Heat a large saucepan over medium heat, add oil.
Add onion, garlic and saute for a few minutes.
Add diced celery and rosemary leaves, cook till celery has turned soft.
Add tomatoes, season with paprika and ground cumin, cook for a minute.
Add red lentil, combine well.
Add 2 cups of chicken stock or vegetable stock and cook covered till red lentil has cooked well.
Add the cooked lentil and tomato mixture into a blender and puree till smooth. Or use a hand blender to puree.
Pour the pureed mixture back to the saucepan.
Add 2 more cups of chicken stock or vegetable stock, ground pepper and let soup come to a slight boil.
Chicken stock has salt in it so no need to add salt, taste and if required add accordingly.
Add cilantro, combine well and cook for a minute.
Remove the pan from the heat.
Serve in soup bowls and enjoy with toasted bread or crackers.