Roasted Lamb Loin Chops Recipe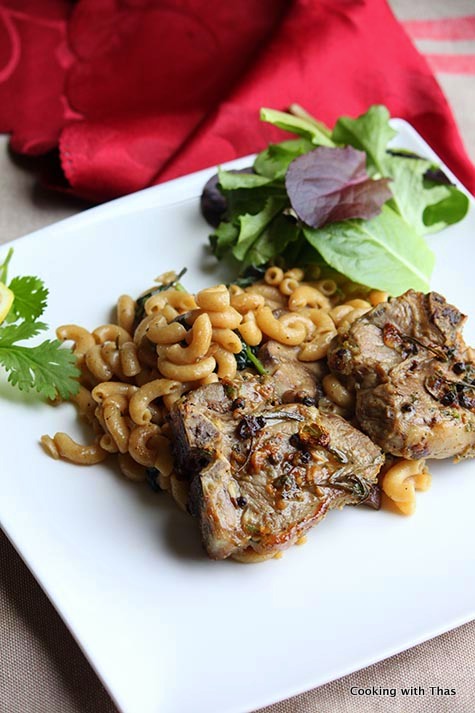 Garlic cloves- 2
Ginger- 1 inch slice
Green chili- 1
Whole black peppercorns- 1 tsp
Cumin seeds- ½ tsp
Cilantro- 2 handfuls
Soy sauce, low-sodium- 2 tbsp
Salt- a few pinches
Rosemary- 1 stalk
Coconut oil- 2 tbsp
Cooked pasta- penne or fusilli- 3 cups
Coconut oil- 1 tbsp
Garlic, chopped- 1
Rosemary leaves- from 1 stalk
Brown Cremini mushrooms- 1 pack, 225 g
Fresh Spinach leaves- 1½ cups (not chopped)
Dripping from roasted lamb chops
Half-half cream or milk- ½ cup
Ground pepper- ¼ tsp
Salt- a few pinches
Parmesan cheese- ½ cup
Preheat oven to 400 F or 200 C.
In a blender or food processor, coarsely grind all the above mentioned ingredients 'to grind'.
Season the lamb chops with salt.
Rub the ground mixture on the lamb chops.
Add soy sauce, rosemary leaves and combine well.
Allow the lamb chops to marinate for 30 minutes.
Place a non-stick cooking pan over medium heat, add 2 tbsp coconut oil, let the oil turn hot.
Place the marinated lamb chops on the oil and roast for 3 minutes till the bottom side turns light brown.
Flip it over and let the other side turn light brown for 3 minutes.
Place the pan roasted lamb chops on a baking pan lined with aluminum foil.
Place the pan on the middle rack in the preheated oven.
Roast for 15 minutes.
Remove the roasted lamb loin chops from the oven. Save the dripping or liquid that oozed out of the chops.
You can even pan roast the lamb chops in an oven proof skillet and place the skillet in the oven.
Cook penne or fusilli pasta in boiling water till tender.
Use the same pan used for pan roasting lamb chops. Place over medium heat.
Add 1 tbsp coconut oil.
Add chopped garlic and rosemary leaves, saute till garlic turns golden in color.
Add cremini mushrooms, saute over high heat till mushrooms turn brown.
Add spinach, saute till wilted for 2 minutes.
Add the dripping from the roasted lamb chops. Combine well.
Add half-half cream or milk, combine well and let cook for 2 minutes.
Season with ground pepper and salt to taste.
Add cooked pasta, combine well.
Add parmesan cheese, combine well and cook for 2 minutes.
While serving: Place the mushroom pasta on the center of the plate, top with 2 roasted lamb loin chops and enjoy.