Asian Style Chicken Poppers- Soysauce Chicken Poppers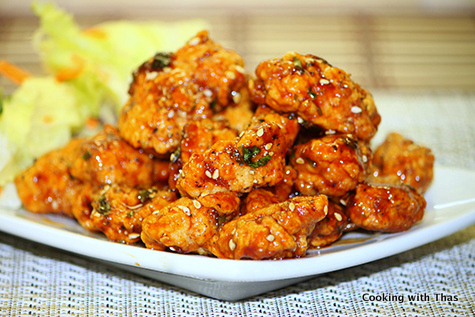 Chicken breasts, boneless cubed- 2
Salt- a few pinches
Ground pepper- ¼ tsp
Chili powder- ½ tsp
All purpose flour- 1 cup
Beaten eggs- 2
Oil- for deep frying
Soy sauce, low sodium- ¾ cup
Hot sauce- 1 tbsp
Tomato Ketchup- 1 tbsp
Honey- 1 tsp
Green onions, chopped- 2 tbsp
Cilantro, chopped- 2 tbsp
Sesame Seeds- 2 tsp
Cut the boneless chicken breasts into 1 inch cubes.
In a bowl combine the cubed chicken along with salt, ground pepper and chili powder, keep aside for 5 minutes.
Have flour and beaten egg ready on 2 separate bowls.
Heat a frying pan over medium heat, add enough oil for frying and let oil turn hot.
Dip the chicken in flour and coat well, dip in egg and again in flour.
Add to the oil without crowding and fry till golden in color.
Transfer to a kitchen paper towel.
Heat a non-stick cooking pan over medium heat, add soy sauce, hot sauce, ketchup, honey, green onions and cilantro, combine well and let cook for a minute.
Add the fried chicken and combine well in the sauce till the sauce has coated well on the chicken.
Add sesame seeds and cook for a minute.
Remove the pan from the heat.
Serve the chicken poppers in a bowl and enjoy.
Add low sodium soy sauce, else the sauce will be very salty.
You could coat the chicken poppers with any kind of store bought sauce- barbecue sauce, piri piri sauce etc.
Recipe by
Cooking with Thas - Healthy Recipes, Instant pot, Videos by Thasneen
at https://www.thasneen.com/cooking/asian-style-chicken-poppers-soysauce-chicken-poppers/