Shrimp Biryani with Carrot Raita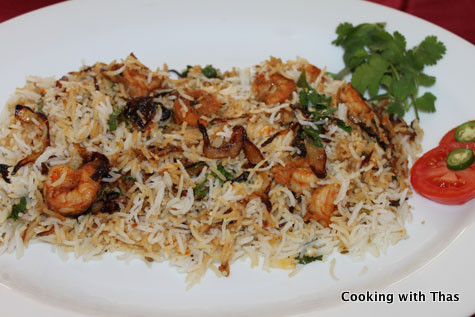 Cloves- 10
Black Cardamom- 4
Maze- 3
Bay leaf-2
Green cardamom-10
Cinnamon-3 sticks
Pepper corn- 10
Black cumin- ½ tsp
Fried onion- 2 tbsp
Chili powder-1 tbsp
Coriander powder- 2 tbsp
Cumin powder-1 tbsp
Turmeric powder-1/4 tsp
Fennel powder- 2 tsp
Basmati Rice- 1½ cups
Cardamom- 3
Cinnamon- 2 inch piece
Cloves-3
Bay leaves- 2
Fennel seeds- 1 tsp
Water- 2½ cups
Salt- to taste
Shrimp, deveined and de-shelled- 30
Ginger-garlic paste- 2 tsp
Chili powder- ½ tsp
Turmeric powder- ¼ tsp
Coriander powder- 1 tsp
Salt- to taste
Oil- just enough for shallow frying the shrimp
Oil- used for shallow frying the shrimp
Yogurt- 1½ cups
Green chilies, chopped- 1 tbsp
Cilantro, chopped- ¼ cup
Mint, chopped- 1 handful( optional)
Biryani Masala- 2 tbsp
Salt- little
Fried shrimp- 1 lb
Cooked Rice- 1½ cups
Fried Onion, homemade or store bought- ½ cup
Cilantro, chopped-1/4 cup
Saffron, soaked in 2 tbsp milk- 2 pinches
Yogurt- 1 cup
Red Onion, minced- ½ small onion
Carrot, grated- 1
Green chilies, chopped- 1 tsp
Cilantro chopped- 1 handful
Salt- to taste
Grind the above ingredients into a fine powder and store it in an air-tight container.
This biryani masala can be stored for a few months.
This can be used for making all kinds of biryani: Chicken, lamb, Fish, Vegetable etc
Soak the basmati rice in water for 30 minutes.
In a large pot, add the water and the spices to it, let it come to a rolling boil.
Season the water with required salt.
Add the strained, soaked rice to the boiling water and cook in medium heat by covering the pot.
Cook the rice to only 85-90%, remaining cooking has to be done along with the shrimp masala.
If there is any water in the rice, strain it and keep aside.
Devein, de-shell and clean the shrimp under running water.
Add ginger-garlic paste, turmeric powder, chili powder, coriander powder and salt to the shrimp and marinate it for 15 minutes.
In a non-stick pan, add the oil, when it is heated through, add the shrimp and shallow fry it in batches, for 4 minutes.
Don't over fry it.
Remove the shrimp from the oil and keep aside.
Heat a wide non-stick pot over medium heat, add the oil used for frying the shrimp.
Add the yogurt to the oil, saute it.
Add green chilies, cilantro, mint, salt, biryani masala and combine everything.
Now, add the fried shrimp and mix it.
Evenly spread the shrimp masala.
Add the cooked rice on top of the shrimp masala and spread it as a layer.
Garnish with fried onions, cilantro, and saffron.
Cover the pot with it a tight lid and cook for 10 minutes over low-medium flame.
While serving, combine the rice and shrimp masala together and serve with Raita.
Combine all the above ingredients in a medium bowl.
Serve with Shrimp Biryani.
Prepare the homemade Biryani masala the previous day and this can be stored for several months and can be used for making any kinds of biryani.
On the day of making this, you just have to make the rice and the shrimp masala. You could simultaneously cook the rice and fry the shrimp.
After frying the shrimp, start making the shrimp masala. By then rice must have cooked, spread the rice on the shrimp masala and cook for another 10 minutes.
Recipe by
Cooking with Thas - Healthy Recipes, Instant pot, Videos by Thasneen
at https://www.thasneen.com/cooking/shrimp-biryani-with-carrot-raita/