Chikoo or Sapodilla Pudding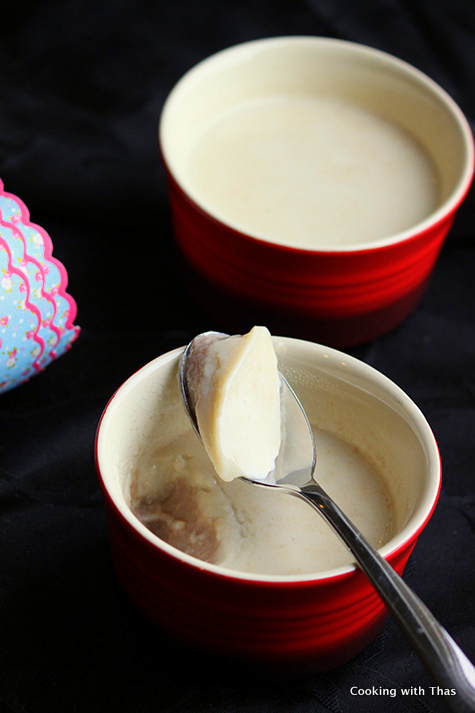 Chikoo or Sapodilla, ripe- 10 quarter slices (if using frozen, defrost or thaw and use them)
Milk- 1¾ cups
Condensed milk, sweetened- 4 tbsp
Vanilla extract- 1 tsp
Gelatin- 1 tbsp, soaked in ¼ cup water (or use agar agar/china grass)
If using frozen chikoo, let it thaw or defrost in microwave till soft.
In a blender, grind the chikoo slices and ¾ cup milk together till smooth.
In a bowl, add gelatin, pour ¼ cup water over it and let soak for 5 minutes.
Place a saucepan over medium heat, pour the pureed chikoo along with remaining 1 cup milk and condensed milk, combine well.
Let the mixture heat through.
Add vanilla extract.
Add the soaked gelatin, stir well and let it dissolve completely.
Remove the pan from the heat.
Strain into ramekins or dessert bowls, let cool down.
Place in the refrigerator for a few hours or overnight till pudding has set well.
Enjoy the deliciously tasting chikoo pudding.
You can also use agar-agar or china grass- ½ cup of 1 inch strands heated in ½ cup water till it has dissolved well. Strain and pour into the pudding mixture.
Recipe by
Cooking with Thas - Healthy Recipes, Instant pot, Videos by Thasneen
at https://www.thasneen.com/cooking/chikoo-or-sapodilla-pudding/