Pesto Chicken Sandwich with Avocado Spread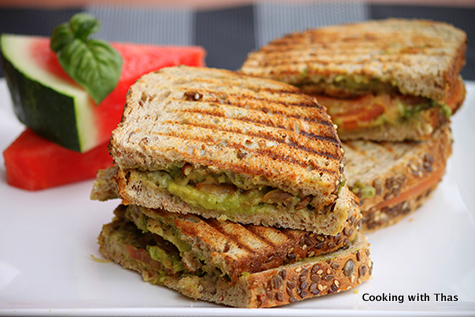 Boneless chicken breasts, halved- 2
Basil Pesto- 3 tbsp
Avocados, ripe- 2
Lemon juice- 1 tbsp
Ground pepper- ¼ tsp
Salt- a few pinches
Bread, whole wheat or multi grain
Tomatoes, cut in round
Parmesan cheese or cheddar cheese- 2 to 3 tbsp/sandwich
I first halved the boneless chicken breasts horizontally and then halved each slice again vertically: that way it will be thinner.
Place the chicken breasts in a bowl, add the pesto and combine well.
Marinate for 15 minutes.
Place a non-stick pan over medium heat, grease with non-stick cooking spray, place the marinated chicken on the pan.
Cook till both sides turn golden brown and the inside has cooked well.
Transfer to a plate and keep aside.
Remove the seeds from the avocados, and scoop the flesh out of the skin.
Mash the avocados well.
Add lemon juice, ground pepper and salt, combine well.
Evenly spread the avocado spread on two slices of bread.
Place 2 round cut tomatoes on the bread, top with 2 slices of cooked pesto chicken, spread cheese on it and close with the other bread.
Place on a panini maker, grill till the cheese has melted and the bread turns crispy and golden.
Cut the sandwich into 2 halves and enjoy while its warm along with your favorite salad to make a full meal.
If you don't have a panini maker, you can place the sandwich on a pan and then place a cast iron pan or something heavy on the sandwich and cook till the cheese has melted and bread turns crispy and golden.