Kerala Style Chicken Wings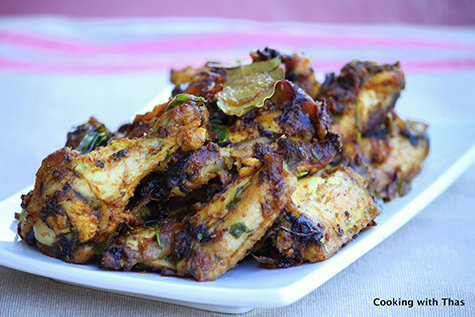 Chicken wings- 15
Ginger-Garlic paste- 1 tbsp
Chili powder- 1½ tsp
Turmeric powder- ¼ tsp
Coriander powder- 2 tsp
Fennel powder- ½ tsp
Ground pepper- ½ tsp
Salt- ¾ tsp
Coconut oil- 2 tbsp
Bay leaves- 2
Whole cardamom- 2
Whole cloves- 1
Whole cinnamon- 2 inch slice
Ginger, chopped- 2 inch slice
Garlic, chopped- 3 cloves
Green chilies, chopped- 3
Curry leaves- 1 sprig
Onion, sliced- 1
Vinegar- 1 tbsp
Ground pepper- ¼ tsp
Cilantro, chopped- 2 handfuls
Salt- to taste
In a large bowl, combine the chicken wings with all the above mentioned ingredients 'for marinating chicken wings'. Let marinate for 1 hr.
Preheat oven to 400 F or 200 C.
Spread the marinated chicken wings on a baking sheet.
Spray non-stick cooking oil spray over the chicken wings.
Bake for 45 minutes, after that flip it over and bake for another 10 more minutes.
Remove the baking sheet from the oven and keep aside.
Place a saucepan over medium heat, add coconut oil and let it turn hot.
Add bay leaves, whole cardamom, whole cloves and whole cinnamon, saute for a few seconds till they turn golden in color.
Add chopped ginger, garlic, green chilies and curry leaves, saute till they turn golden brown in color,
Add sliced onion, season with salt and stir fry till onion turn golden brown in color.
Add the baked chicken wings, stir fry for a minute.
Add vinegar and stir fry.
Add ground pepper and cilantro.
Stir fry over high heat for a few minutes till chicken wings turn slightly browned.
Remove the pan from the heat.
Serve the chicken wings while its warm. This is a dry dish, if needed you can serve with your favorite dipping sauce.