Fish curry with Kodampuli or Gambodge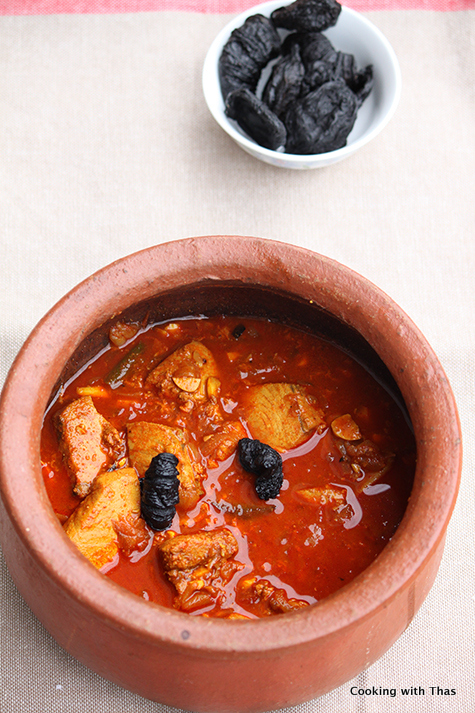 Coconut oil- 2 tbsp
Mustard seeds- 1 tsp
Fenugreek seeds- ½ tsp
Small onions, chopped- 6
Garlic, chopped- 3 cloves
Ginger, chopped- 1 inch
Green chilies, chopped- 2
Curry leaves- 10 leaves + 1 sprig
Kashmiri red chili powder- 2 tsp
Turmeric powder- ¼ tsp
Coriander powder- 2½ tsp
Ground pepper- ½ tsp
Kodampuli or Gambodge- 3 pieces soaked in ¼ cup water
Water- ¾ cup
King fish pieces- 12(marinated with chili powder- ¼ tsp, turmeric powder- ⅛ tsp, salt- a few pinches)
Salt- to taste
Roasted Fenugreek powder- ½ tsp
Soak the Kodampuli or Gambodge in ¼ water for 10 minutes.
To the king fish pieces, add ¼ tsp chili powder, ⅛ tsp turmeric powder and a few pinches of salt and marinate for 15 minutes.
If you have claypot, use that to make this curry. If not use a non-stick saucepan.
Place a claypot or saucepan over medium heat, let it turn hot.
Add coconut oil, let the oil turn hot.
Add mustard seeds, let it splutter.
Add fenugreek seeds, let it turn golden brown.
Add small onions, ginger, garlic, green chilies and curry leaves, saute till light golden.
Add Kashmiri red chili powder, turmeric powder, coriander powder and ground pepper, saute for 2 minutes till the spices get roasted. Make sure not to burn the spices.
Add the soaked kodampuli along with the water it was soaked in, combine well.
Add ¾ cup water, combine well and let the water come to a rolling boil.
Add the marinated king fish pieces and cook covered for 25 minutes till the gravy thickens.
Taste and add more salt if needed.
Roast ½ tsp fenugreek seeds in a frying pan, grind the roasted seeds into a fine powder.
After 25 minutes of cooking, add the ground roasted fenugreek seeds over the fish curry.
Add 1 sprig curry leaves.
Cover the pan and keep aside for 15 minutes.
Serve along with rice or chapati.