Dates cake in Caramel Sauce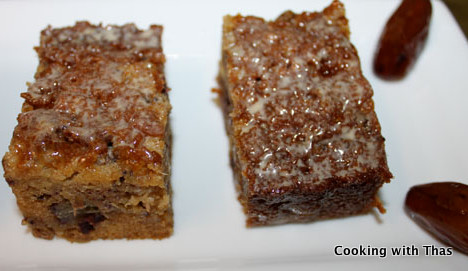 Dates, chopped - 1 cup
Water - 1 cup
Baking soda - ¾ tsp
Sugar - 1 cup
Butter - ¼ cup
Eggs - 2, large at room temperature
All purpose flour or gluten free flour- 1 cup
Vanilla extract - 1 tsp
Brown sugar - ½ cup
Butter - 2 tbsp
Heavy cream - ½ cup
Vanilla extract - 1 tsp
Preheat oven to 325 degrees F or 160 degrees Celsius.
In a saucepan, cook 1 cup of chopped dates in 1 cup water over medium heat for 7 minutes or till the dates are cooked through. do not over-cook the dates.
Remove the pan from the heat, let cool down for a few minutes.
Add the baking soda to the dates mixture, combine well and keep aside.
Using an electric hand mixer or stand mixer with paddle attachment, cream the sugar and the butter together.
Add eggs one at a time, beat well.
Add vanilla extract and give it a mix.
Add flour and beat the mixture for 2 minutes till well-incorporated without any lumps.
Add the cooled dates mixture and beat for a minute till combined.
Grease the baking pan with butter, pour the dates mixture into the pan.
Bake for 45 to 50 minutes or until a fork inserted into the middle of the cake comes out smooth.
Combine all the ingredients mentioned for making the caramel sauce in a saucepan, bring to a boil.
Simmer the sauce for 10 minutes or until the sauce thickens. Remove from the heat, let cool down completely.
Spread the caramel sauce evenly over the cooled dates cake.
Chill the dates cake topped with caramel sauce in the refrigerator for 30 minutes.
Cut into wedges and enjoy the heavenly taste, truly YUM!