Sweetened Vermicelli topped with Pecan Praline- Easy Payasam with Praline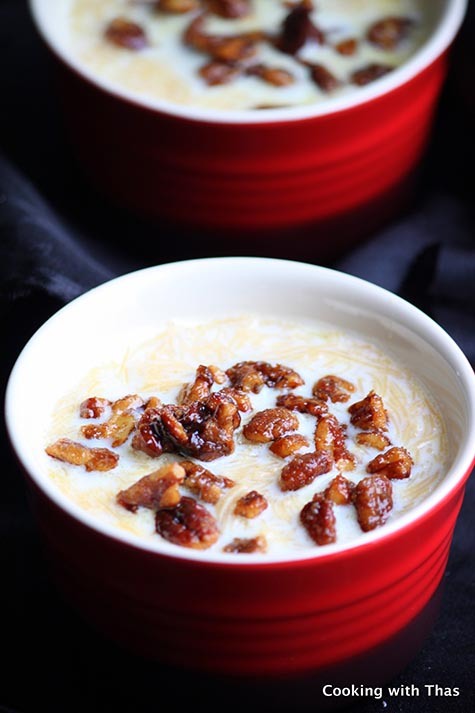 Thin Roasted Vermicelli, cut into 2 inch slice- 1 cup
Milk- 2 cups
Saffron, soaked in milk- 2 pinches
Honey- 3 to 4 tbsp (or add condensed milk)
Ghee or Unsalted Butter- ½ tbsp
Pecans- 2 tbsp
Brown sugar- 3 tbsp
Butter, unsalted- ½ tbsp
Milk or cream or water- 1 tbsp
Use thin roasted vermicelli for making this dessert, available at most Indian stores.
Add the saffron to the milk and soak for 5 minutes.
Place a saucepan over medium heat, add ghee, let it melt.
Break the vermicelli roughly about 2 inch long using your hands.
Add the vermicelli to the ghee and roast for a couple of minutes.
Add the milk along with the saffron, combine well.
Add honey, around 3 to 4 tbsp according to your sweet level. Combine well.
Let cook over medium heat for 5 to 7 minutes till the vermicelli turns soft.
After the vermicelli has turned soft, remove the pan from the heat and let cool down.
You could serve the sweetened vermicelli slightly warm or chilled.
This recipe is for topping 2 bowls of sweetened vermicelli, if making for more than 2 people increase the ingredients accordingly.
Place a small pan over medium heat, add brown sugar, butter and milk/cream or water. Combine well, let the brown sugar melt.
Add the pecans and combine well. Keep stirring for a few seconds till the mixture has thickened.
Immediately transfer the praline pecans to a plate lined with parchment paper, else it will stick to the pan. Let cool down for a few minutes.
Top the sweetened vermicelli with the praline pecans and enjoy.
Instead of honey you could add condensed milk, makes it more rich and creamy.
Praline Pecans- tastes so delicious by itself, you could make more and enjoy as a snack.
Recipe by
Cooking with Thas - Healthy Recipes, Instant pot, Videos by Thasneen
at https://www.thasneen.com/cooking/sweetened-vermicelli-topped-with-pecan-praline-easy-payasam-with-praline/