Asian Style Macaroni - Stir Fried Macaroni Recipe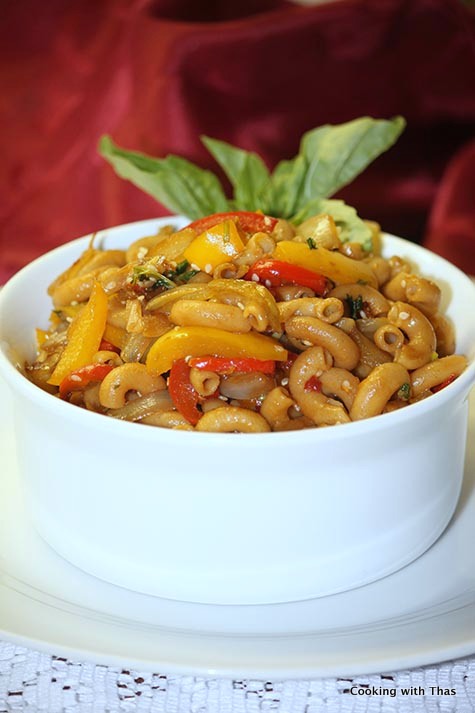 Whole wheat or white Macaroni, cooked in water- 1 pack
Vegetable oil- 1 tbsp
Garlic, chopped- 2 cloves
Onion, sliced thin- 1
Red pepper, julienned- 1
Orange pepper, julienned- 1
Yellow pepper, julienned- 1
Soy sauce- 3 tbsp
Hoisin sauce- 3 tbsp
Rice Vinegar- 1 tbsp
Sambal Oelek or chili paste- 1 tsp ( or add chili powder or cayenne powder for spice)
Green onions, chopped- 2 stalks
Cilantro, chopped- 2 handfuls
Sesame seeds- 1 tbsp
Sesame oil- 1 tsp
Place a pot filled ¾ th with water over medium heat, season with salt and let the water come to a boil. Add the macaroni and cook for a few minutes till it turns tender. Drain the water and the keep aside the cooked macaroni.
Place a wok over medium heat, add oil. When the oil turns hot, add garlic and saute till golden.
Add onion and saute till golden in color.
Add all the peppers, stir fry over medium hight heat till they turn slightly tender.
Add soy sauce, hoisin sauce, sambal oelek and rice vinegar, combine well and stir fry for a couple of minutes.
Add the cooked macaroni, combine well and stir fry.
Add green onions and cilantro, stir fry.
Finally, add sesame seeds and sesame oil. Stir fry over high heat for a minute.
Remove the wok from the heat.
Serve in bowls and enjoy.
You could even add chicken: Combine 2- diced chicken breasts along with ½ tbsp soy sauce, ½ tbsp hoisin sauce, ½ tsp sambal oelek. Cook covered in a saucepan till chicken has cooked well and turns golden brown. Add this to the Macaroni and pepper stir fry.
Recipe by
Cooking with Thas - Healthy Recipes, Instant pot, Videos by Thasneen
at https://www.thasneen.com/cooking/asian-style-macaroni-stir-fried-macaroni-recipe/