Coconut Yogurt Curry- Ozhichu Curry Recipe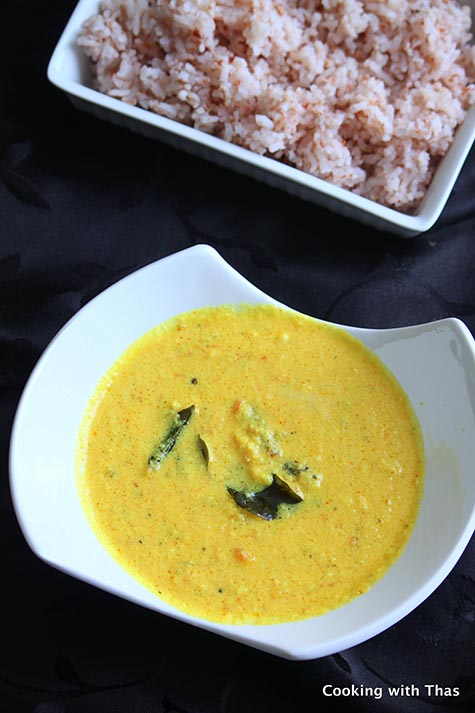 Grated coconut- ½ cup
Cumin seeds- 1 tsp
Green chilies- 2
Curry leaves- 1 sprig
Turmeric powder- ½ tsp
Tomato, chopped- 1 (optional)
Yogurt- ½ cup
Water- 1 cup
Oil- 1 tbsp
Mustard seeds- 1 tsp
Whole dry red chilies- 2
Curry leaves- 1 sprig
Salt- 1 to 1½ tsp
Chili powder- ½ to ¾ tsp (if you need the curry to be spicy)
In a blender, combine all the above mentioned ingredients "to grind", grind till smooth.
Place a sauepan over medium heat, add oil. Let the oil turn hot.
Add mustard seeds, let it splutter.
Add dry red chilies and curry leaves, saute for a couple of minutes.
Pour the ground coconut-yogurt mixture into the oil.
Rinse the blender jar with ½ cup water and add the water to the pan.
Season with salt.
Let cook for a few minutes.
Have a taste and if you want more spice, add ½ to ¾ tsp of chili powder.
Let the curry come to a slight boil.
Remove the pan from the heat and keep covered.
This can be served with rice along with fish curry/chicken curry etc.