Chicken Chow Mein Recipe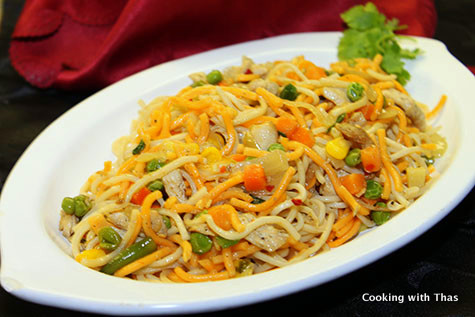 Chicken breasts, boneless, diced- 2 breasts
Soy sauce, low-sodium- 1 tbsp
Chili paste or Sambal Oelek- ¼ tsp (or use ground pepper)
Chicken stock- 1 cup
Soy sauce, low-sodium- 1 tbsp
Rice Vinegar- 1 tbsp
Chili sauce or sambal Oelek- 1 tsp
Chow Mein Noodles- 250 gm
Oil- 4 tbsp to stir fry chicken
Ginger, minced- 1 tsp
Garlic, minced- 1 tsp
Onion, sliced thin- 1
Mixed veggies- Use a mix of thinly sliced red pepper/green pepper/beans/carrots/peas/corn/cabbage etc
Green onions, chopped- 2 stalks
Cilantro, chopped- ¼ cup
Sesame oil- 1 tsp
In a bowl, combine chicken with soy sauce and ground pepper, marinate for 15 minutes.
In another bowl, combine chicken stock (or use 1 bouillon chicken cube dissolved in 1 cup water), soy sauce, rice vinegar and chili sauce or sambal oelek. Keep aside.
Boil water in a saucepan, add the chow mein noodles and cook for a few minutes till they turn soft. Do not over cook the noodles till they turn mushy. Drain the water and keep the noodles aside.
Heat a wok or wide non-stick pan over medium heat, add 4 tbsp oil.
Add marinated chicken and stir fry till chicken has cooked and turns golden in color.
Transfer the chicken to a plate lined with kitchen paper towel.
In the same wok, there will be oil left in the pan, add minced ginger and garlic, saute for a minute till they turn golden in color.
Add sliced onion, stir fry over medium high heat till tender.
Add the thinly sliced mixed veggies, stir fry for a few minutes, do not over cook the veggies let them stay crisp.
Add the cooked chicken to the wok.
Add the prepared sauce, combine well and cook for 2 minutes.
Add the cooked chow mein to the wok, combine well and stir fry over medium high heat for 3 minutes till the sauce thickens.
Add spring onions and cilantro, stir fry for a minute.
Finally, drizzle sesame oil, combine everything well and remove the wok from the heat.
Serve the chicken chow mein noodles in bowls or plates and enjoy when it's warm.