Roasted Lamb Shoulder Chops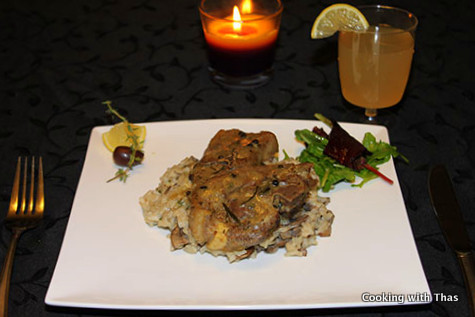 Lamb shoulder chops- 4 pieces
Garlic- 3 cloves
Rosemary- 1 sprig
Thyme- 1 sprig
Whole black Pepper corns- 2 tsp
Ground cumin 1 tsp
Light Olive oil- 3 tbsp
Lemon juice-1 tbsp
Salt- a few pinches
Chicken stock or beef stock- 1 cup
Cornstarch- 1 tbsp dissolved in 2 tbsp water
Freshly ground pepper- ¼ tsp
Light Olive oil- 2 tbsp
Freshly ground pepper- to garnish over roasted lamb
Preheat the oven to 400 F.
In a food processor, coarsely grind all the ingredients mentioned 'to make the marinade'.
Spread a few pinches of salt on all the lamb chops.
Spread the marinade over the lamb shoulder chops and refrigerate for 2 hrs.
Place an oven safe skillet over medium heat, add 2 tbsp olive oil.
Place the marinated lamb chops on the skillet and cook for 3 minutes.
Flip it over and cook for another 3 more minutes.
Remove the skillet from the stove and place it in the preheated oven and roast for first 15 minutes.
(Wear gloves) After 10 minutes, flip the chops over and roast for another 5 more minutes.
Remove the skillet from the oven and place it over high heat on the stove.
Sprinkle freshly ground pepper over the roasted lamb chops and cook for 2 to 3 minutes over high heat. Do not let the liquid in the skillet dry out completely.
Transfer the chops to a plate.
Into the liquid in the skillet, add 1 cup chicken stock or beef stock, combine well to the liquid.
Dissolve 1 tbsp cornstarch in 2 tbsp water and add to the skillet. Add freshly ground pepper and salt if needed.
Combine well and let the gravy thicken.
Remove the skillet from the stove.
I served the lamb chops with Mushroom risotto and salad. You could serve rice pilaf, roasted veggies, mashed potatoes etc.
On a plate, place risotto on the center of the plate. Place roasted lamb chops over the risotto and pour the gravy over the chops. Serve while it's warm.