Easy Plantain Cake- Plantain Bread Pola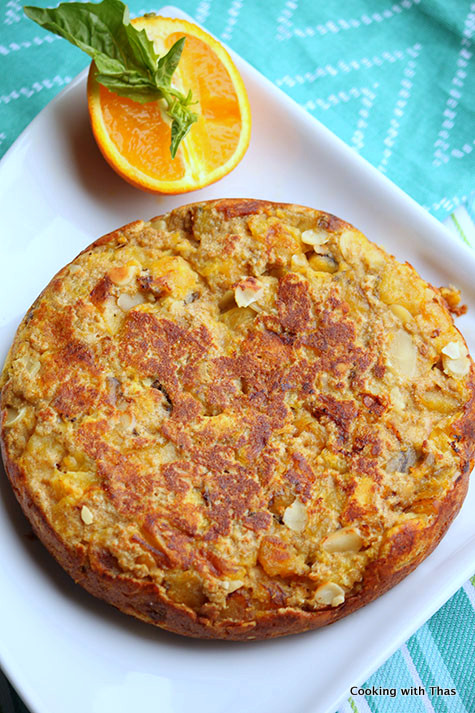 Plantains, ripe- 2, diced small
Oil or Ghee- 2 tbsp
Eggs, beaten- 2
Sugar- 3 tbsp
Whole wheat Bread- 3 slices, grated in a food processor
Almonds or Cashew nuts, coarsely crushed- ¼ cup
Ghee- 1 tbsp, to grease the saucepan
Use ripe plantains to make this. Dice the plantains into small pieces.
Heat a frying pan over medium heat, add 2 tbsp oil or ghee.
Saute the diced plantains till light brown. Remove the pan from the heat.
Grate or chop the bread in a food processor till it resembles to crumbs.
In a large bowl, beat the eggs along with sugar.
To the eggs, add grated bread, roasted plantains and almonds or cashew nuts. Combine well.
Place a medium sized non-stick saucepan over low heat.
Add 1 tbsp ghee, let it melt and swirl the pan to grease the inside of the pan.
Pour the prepared egg/bread/plantain mixture into the pan.
Cover the saucepan and cook over low heat for 5 minutes till it's set well.
Cover the saucepan with a plate and flip the cake over onto the plate.
The top of the cake will have a golden brown color.
Gently, slide the cake into the saucepan so that the top part is at the bottom of the pan. This is to cook the other side as well.
Cook covered for another 5 minutes.
Cover the pan with the plate and flip the cake over onto the plate.
Now, both the sides of the cake have cooked well and turned golden brown in color.
Let cool down and cut into wedges.
Enjoy with a cup of coffee or tea.