Minestrone Soup - Italian Soup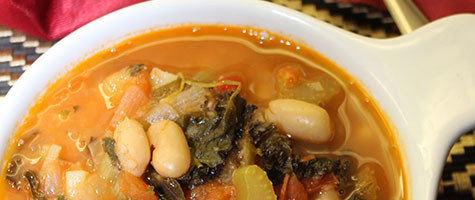 Olive oil- 2 tbsp
Onion, chopped- 1
Celery, chopped- 3 stalks
Garlic, minced- 2 cloves
Fresh Rosemary- 2 sprigs
Cayenne pepper- 1 tsp (or use chili powder for spice)
Potatoes, diced small- 2
Tomatoes, chopped- 3
Kale leaves, coarsely chopped- 3 big leaves
White Kidney beans, rinsed and drained- 1 can (15 to 19 oz)
Chicken or vegetable broth- 4 cups
Tomato paste- 3 tbsp
Parsley, chopped- 1 handful
Freshly Ground pepper- ½ tsp
Salt- to taste
Place a soup pot over medium heat. Add olive oil.
Add onion, celery, garlic and fresh rosemary, combine well and cook till onions turn translucent for 7 to 8 minutes.
Add potatoes and kale leaves, saute for 2 minutes.
Add tomatoes and cook covered for 5 minutes till tomatoes are cooked well.
Add cayenne pepper or chili powder, combine well.
In a food processor, puree ½ cup of the white kidney beans along with ¼ cup chicken or vegetable broth till smooth.
Add the pureed beans to the soup pot. Combine well.
Add the remaining 3½ cups of broth and tomato paste. Combine well.
Cover the pot and simmer till potatoes have turned tender for 15 minutes.
Add the remaining whole white kidney beans and parsley. Combine well.
Season with ground pepper and salt.
Cook for 10 more minutes till the beans have cooked through and the soup has slightly thickened.
Remove the rosemary stem from the soup.
Serve in soup bowls and enjoy the warmth and comfort from this soup.
If you want, just before serving you could garnish the soup with grated parmesan cheese.
Recipe by
Cooking with Thas - Healthy Recipes, Instant pot, Videos by Thasneen
at https://www.thasneen.com/cooking/easy-minestrone-soup-italian-soup/