Salmon and Peas in Yogurt Gravy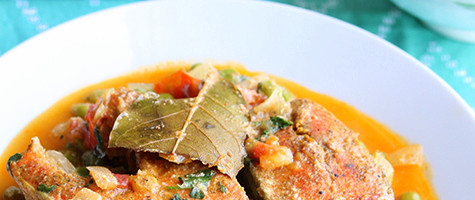 Salmon- 5 round slices (use any kind of fish)
Chili powder- 1½ tsp
Turmeric powder- ¼ tsp
Coriander powder- 1 tsp
Garam masala- ¾ tsp
Salt- a few pinches
Oil- 4 tbsp
Bay leaves- 2
Whole Cardamom- 2
Onion, chopped- 1
Peas- 1 cup
Tomatoes, chopped- 2
Chili powder- ¾ tsp
Ground cumin- ½ tsp
Salt- to taste
Cilantro, chopped- 2 handfuls
Beaten yogurt- ¾ cup
In a bowl, spread all the spice powder mentioned 'for marination' over the salmon and keep aside for 5 minutes.
Place a non-stick pan over medium heat, add 4 tbsp oil.
Add bay leaves and whole cardamom.
Place the marinated Salmon over the oil and pan fry till fish has cooked well and both sides have turned golden brown.
Keep aside the pan fried salmon.
In the same pan used for pan frying, add onion, saute till translucent.
Add peas and tomatoes, cook covered till peas are cooked and tomatoes slightly mashed.
Add chili powder, ground cumin and salt, combine well and cook for a couple of minutes.
Add the pan fried salmon, gently combine to the peas masala.
Add the beaten yogurt, combine well and cook for 2 minutes. (Make sure to beat the yogurt well using a whisk before adding to the pan).
Taste and add more salt if needed.
Finally, garnish with chopped cilantro.
Remove the pan from the heat and keep covered for a few minutes.
Serve with rice or roti.