Ground Beef kothu Parotta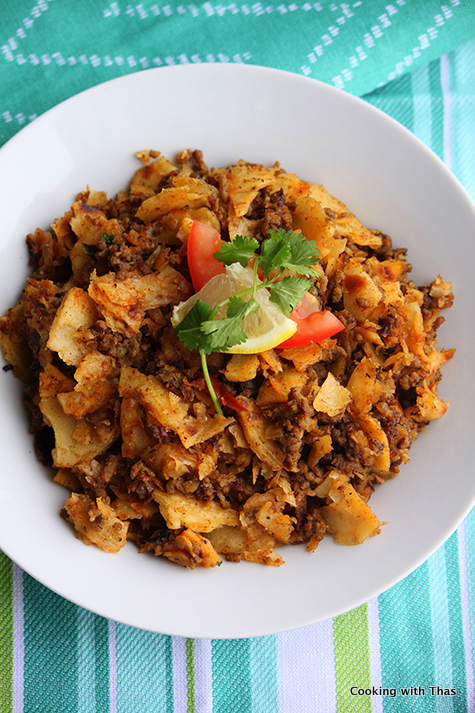 Kerala Parottas, chopped- 6
Oil- 2 tbsp
Onion, chopped- 2
Ginger-garlic paste- ½ tbsp
Green chilies, chopped- 2
Curry leaves- 1 sprig
Lean Ground beef- 1 lb or ½ Kg
Chili powder- 1 tsp
Garam masala- 1 tsp
Coriander powder- 1½ tsp
Fennel powder- 2 tsp
Egg, beaten- 1
Cilantro, chopped- 2 handfuls
Lemon juice- 1 tbsp
Salt- to taste
Use store bought parottas or make them from scratch.
In a food processor or using a knife chop the parottas into small pieces. Keep aside.
Place a wide no-stick cooking pan over medium heat, add oil.
Add onion, season with salt and saute till translucent.
Add ginger-garlic paste, chopped green chilies and curry leaves, combine well and cook till onions turn golden in color.
Add ground beef to the onions, break the ground beef without any lumps and cook covered till the pink color has faded.
Add chili powder, garam masala, coriander powder, fennel powder and salt, combine well and cook till ground beef has cooked well and starts to turn brown.
Slide the cooked ground beef to one side of the pan. On the other side, add the beaten egg and scramble it. Combine the egg along with the cooked ground beef.
Add the chopped parottas and stir fry with ground beef.
Add cilantro, drizzle with lemon juice, combine well and stir fry for a minute,
Taste and add more salt if needed. If you need it to be spicy add more chili powder according to your preference.
Serve hot along with raita or yogurt.