Thai Style Chicken and Potato Curry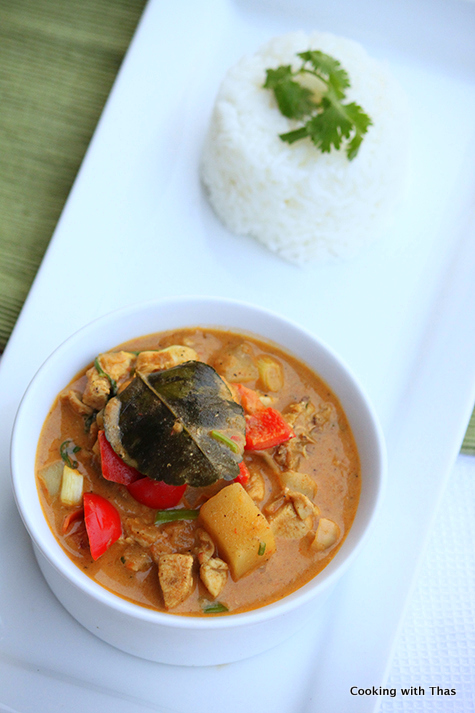 Oil- 2 tbsp
Onion- 1, chopped
Lemon grass, chopped- 1 stalk (use only the white part at the ends)
Kaffir Lime leaves- 3
Chicken breasts, cubed- 2 breasts
Turmeric powder-1/4 tsp
Chili powder- ¾ tsp
Cumin powder-1/2 tsp
Coriander powder- ½ tsp
Ground pepper- ½ tsp
Potatoes, cubed- 3
Red pepper, cut small- 1
Coconut milk- 1½ cups
Tomato paste- 3 tbsp
Cilantro, chopped- 2 sprigs
Spring onion, chopped- 1 stalk
Salt- to taste
Place a large wide pan over medium heat, add oil.
Add onion, chopped lemon grass and kaffir lime leaves, season with salt and cook till onions turn translucent.
Add cubed chicken breasts, season with turmeric powder, chili powder, cumin powder, coriander powder, ground pepper and salt, cook covered till chicken has almost cooked.
Add cubed potatoes, add 1 cup coconut milk and cook covered till potatoes turn tender.
Add red pepper and tomato paste, combine well.
Add remaining ½ cup coconut milk and cook covered for a few minutes till red pepper has turned just tender.
Add ½ cup water to thin down the gravy and cook for a few minutes.
Taste and add more salt if needed.
Add cilantro and spring onions, combine well and cook for a minute.
Remove the pan from the heat and keep aside for sometime.
This curry can be served with rice, noodles or pasta.