Chicken Tomato Egg Drop Soup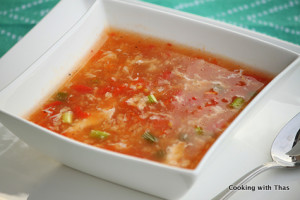 Chicken, boneless and diced small- 1 chicken breast
Corn starch- ½ tbsp
Egg white- ½ tbsp
Salt- a few pinches
Chicken stock, low-sodium- 5 cups (or combine 2 chicken bouillon cubes in 5 cups water)
Tomato, chopped- 2
Soy sauce, low-sodium- 1 tbsp
Chili paste- 1 tsp
Tomato ketchup- ½ tbsp
Cornstarch- 1 tbsp dissolved in 2 tbsp cold water
Green onions, chopped- 2 stalks
Egg white, beaten- whites from 2 eggs
Ground pepper- ¼ tsp
Salt- to taste, if needed
In a bowl, combine chicken with corn starch, egg white and salt.
Place a large pot over medium heat, pour the chicken stock into the pot and let it come to a slight boil.
Add the marinated chicken and cook for 5 minutes till the chicken floats on the stock.
Add the chopped tomato and cook for a few minutes.
Add soy sauce, chili paste and tomato ketchup, combine well and cook for 3 to 4 minutes.
Combine the cornstarch with cold water and add to the soup, combine well and let the soup thicken.
Pour the beaten egg white and keep stirring to avoid the formation of lumps.
Add green onions and ground pepper.
Have a taste and add more salt if needed.
Remove the pot from the heat and ladle the soup into a soup bowl.
Enjoy while the soup is warm.