Ground Beef and Cracked Wheat Biryani- Bulgur Wheat Biryani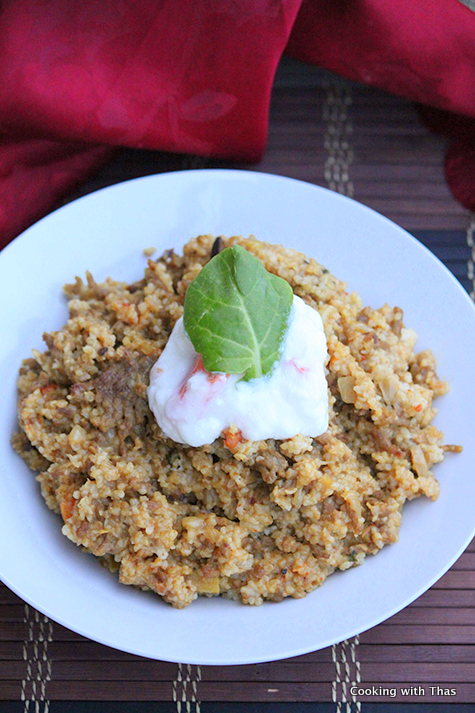 Garlic- 4 cloves
Ginger- 2 inch slice
Green chilies- 2 or 3
Ground beef- 1 lb or ½ Kg
Oil- 2 tbsp
Whole cardamom- 2
Whole cloves- 2
Whole cinnamon- 2 inch slice
Bay leaves- 2
Onion, chopped- 3
Tomatoes, chopped- 2
Garam masala- ¾ tsp
Chili powder- ¾ tsp
Turmeric powder- ⅛ tsp
Coriander powder- 2 tsp
Fennel powder- 1½ tsp
Salt- to taste
Cilantro, chopped- ¼ cup
Mint leaves, chopped- 8 leaves
Cracked wheat or bulgur wheat- 2 cups
Water- 2½ cups
Salt- to taste
Ghee- 2 tbsp
Fried onions- ½ cup (optional)
Cook cracked wheat along with water in a rice cooker or over stove top. Add 2 cups cracked wheat and 2½ cups water seaosned with salt to a saucepan and cook covered for 15 to 20 minutes till water has dried up and cracked wheat has cooked well. Keep aside the cooked cracked wheat.
In a food processor, grind: garlic, ginger and green chilies into a coarse paste. Keep aside.
Place a large wide non-stick pan over medium heat, add oil.
Add whole cardamom, cloves, cinnamon and bay leaves, saute for a second.
Add ground ginger, garlic and chilies, saute till they turn golden brown.
Add onions, season with salt and cook till onions turn golden in color.
Add tomatoes, cook till they are mashed up.
Add garam masala, chili powder, turmeric powder, fennel powder, coriander powder and salt, combine well.
Add ground beef, combine well without any lumps.
Cook covered till ground beef is no longer pink and has cooked well.
Add cilantro and mint leaves.
Cook till ground beef has turned light brown in color, tastes better when it's browned.
Taste and add more salt or chili powder for spice if needed.
Add the cooked cracked wheat in small amounts and combine well with the ground beef masala till you have added the entire cracked wheat.
Drizzle ghee over the cracked wheat ground beef biryani.
Garnish with fried onions and keep covered for 15 minutes.
Before serving, combine everything together and serve on a plate.
Serve along with raita- yogurt mixed with tomato, onion, cucumber and salt.
If you want more spice, increase the chili powder accordingly.
Recipe by
Cooking with Thas - Healthy Recipes, Instant pot, Videos by Thasneen
at https://www.thasneen.com/cooking/ground-beef-and-cracked-wheat-biryani-bulgur-wheat-biryani/