Pea Pesto Panini Sandwich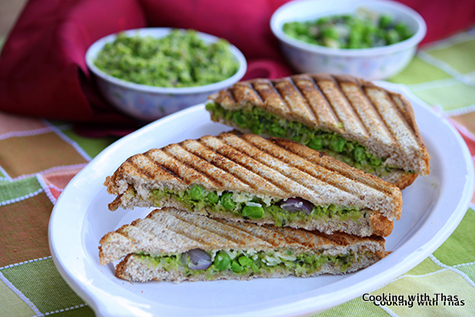 Peas, frozen- 1½ cups
Olive oil- 1 tbsp
Shallots, chopped- 1 or use 3 small onions
Garlic, chopped- 1
Fresh basil leaves loosely packed- ½ cup
Cilantro, chopped- ¼ cup
Olive oil- 2 tbsp
Lemon juice- ½ tbsp
Parmesan cheese- ¼ cup
Salt- to taste
Ground pepper- ⅛ tsp
Whole wheat or White bread
Butter, unsalted
Place a non-stick pan over medium heat, add oil.
Add shallots or small onions and garlic, saute till translucent.
Add peas and cook for 2 minutes till they are cooked through. Do not over cook the peas.
Remove the pan from the heat and let cool down.
Into a food processor: add basil, cilantro, olive oil, lemon juice, parmesan cheese, salt, ground pepper and half of the cooked peas. Process these until coarsely smooth. Taste and add more salt if needed.
Transfer the pea pesto into a bowl. Keep aside.
Spread 1 to 2 tbsps of the prepared pea pesto on the bread slice, top with 1 to 2 tbsps of cooked peas and close with another bread slice.
Spread some butter on the outside of the bread slice and grill the sandwich in a panini maker till it turns golden brown in color.
If you don't have a panini maker- you could grill on a non-stick pan: melt butter on the heated pan, place the sandwich on the pan and then place a heavy skillet on the sandwich. When the bottom bread slice has turned golden brown, flip it over and let the other slice turn golden brown too.
Using a sharp knife, half the panini and serve immediately.